This article is more than 1 year old
It's roundup time – like scouring the local paper for pics of your kid, but with storage firms
This week among the lucky parents, GridGain, Memblaze and Western Digital. Well done
Storage companies big and small are always announcing something or other big and small, whether that's sick new tech, astonishing customer numbers or an incremental update to software that is going to totally revolutionise the way you stash data.
Yes, storage companies. We see you. We just didn't think it warranted an entire webpage to itself, just like your six-year-old daughter's Silver in the 100 Metres on Sports Day didn't make the splash of the local paper – but there are spreads and spreads of the red-faced munchkins on pages 44 to 58. Papers don't fill themselves, you know (thanks Google). Not a week goes by without a flurry of soundbytes from the storage industry, so without further ado, let's rummage through the mail sack.
CCIX Consortium Base Spec 1.0
The CCIX Consortium announced the release of the CCIX Base Specification 1.0, which it says enables a new class of high-performance, low-latency, cache-coherent interconnect for the cloud, artificial intelligence, big data, database and other data centre infrastructures.
It defines a chip-to-chip interconnect for seamless data sharing between compute, accelerators and memory expansion devices with cache-coherent shared virtual memory. The spec uses the PCI Express 4.0 architecture and ecosystem and increases throughput to 25GT/s per lane.
This spec can maintain cache coherency across devices from different providers, addressing the high-performance needs of heterogeneous compute systems, and enabling seamless acceleration between them.
There is autonomous data movement between processor cache and accelerator cache without software driver involvement.
Click here to join CCIX and start using the specification.
Buffalo TeraStation NAS
A new line of Buffalo TeraStation WS5020 NAS devices runs Windows Storage Server 2016.
The systems run on Atom C3338 CPUs, with up to 8GB of memory and 1GbitE connectivity. Apparently the 8GB of memory enables stable operation even when virus scanning or other software is in use.
They have deduplication to increase effective capacity and replace former models featuring WSS 2012R2.
Buffalo said they can be used as a file server for small and medium-sized companies or divisions with more than 100 employees, or as a backup server for any organisation.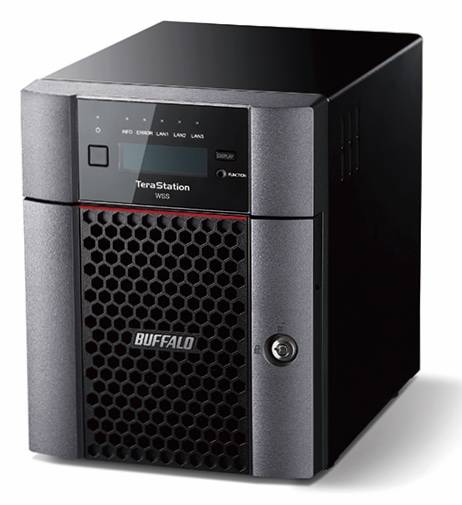 Buffalo TeraStation WS5420DN6
Here's the full line of Buffalo WSS 2016 NAS:
TeraStation WS5220DNW6

WSS 2016 – Workgroup licence – 4TB 2x 2TB – RAID 0/1/JBOD
WSS 2016 – Workgroup license – 8TB 2x 4TB – RAID 0/1/JBOD

TeraStation WS5420DNW6

WSS 2016 – Workgroup licence – 8TB 4x 2TB – RAID 0/1/5/JBOD
WSS 2016 – Workgroup licence – 16TB 4x 4TB – RAID 0/1/5/JBOD
WSS 2016 – Workgroup licence – 32TB 4x 8TB – RAID 0/1/5/JBOD

TeraStation WS5420RNS6 Rackmount

WSS 2016 – Standard licence – 16TB 4x 4TB – RAID 0/1/5/JBOD
WSS 2016 – Standard licence – 32TB 4x 8TB – RAID 0/1/5/JBOD

TeraStation WSH5610DNS6 HW RAID

WSS 2016 – Standard licence – 12TB 6x 2TB – HW RAID 0/5/6/10
WSS 2016 – Standard licence – 24TB 6x 4TB – HW RAID 0/5/6/10
WSS 2016 – Standard licence – 48TB 6x 8TB – HW RAID 0/5/6/10
Suggested retail prices will start at €1,122 for a WS5220DN04W6 4TB and up to €5,807 for a WSH5610DN48S6 HW RAID 48TB.
GridGain
GridGain (in-memory computing via Apache Ignite) has announced the beta release of GridGain Cloud, an in-memory cache-as-a-service that allows users to deploy a distributed in-memory cache and access it using ANSI-99 SQL, key-value or REST APIs.
It provides in-memory data caching capabilities that support GridGain Web Console (interactive SQL), REST APIs, JDBC, ODBC, and GridGain or Apache Ignite thin clients. With GridGain Cloud, any developer or analyst with a knowledge of SQL can launch a cluster with a few clicks. Users can then load data and monitor and manage the cluster from a central console.
The net result is in-memory computing performance in the cloud, which can be massively scaled out and can be deployed in minutes for caching applications. A free beta trial is available here.
Memblaze lights NVMe fire
Beijing Memblaze Technology has released PBlaze 5 910/916 and low-power 510/516 series NVMe SSDs. They both use 64-layer 3D-NAND with a maximum 15.36TB capacity.
The 910/916 features 6GB/sec sequential read bandwidth, 1 million IOPS read performance and 89/11μs read/write latency. Users can set the power consumption from 10W to 25W as needed within 1ms.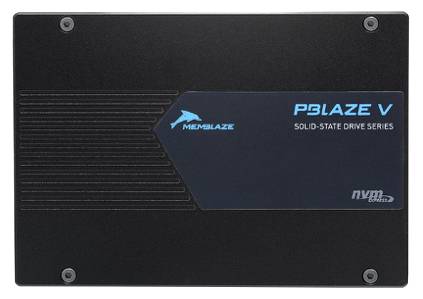 Memblaze PBlaze 5 SSD
The 510/516 is 2.5 inches with a thickness of 15mm and 7mm. Both have the U.2 interface, and can offer 540,000 IOPS and 3.2GB/s bandwidth. The product has a typical load power consumption of 10W and idle power consumption of 4W, allowing Watt-level power consumption control.
The 510/516 is dual-ported and hot-pluggable.
Memblaze has over 600 enterprise customers, including Alibaba, Baidu, JD and QingCloud, and close working relationships with Microsemi, Micron, Toshiba, Dell, Inspur, Sugon, VMware, and Toyou.
Western Digital gives Dropbox shingles
Dropbox has adopted Western Digital's 14TB helium-filled and host-managed shingled disk drive, the Ultrastar HS14.
Dropbox said in a detailed and interesting blog that it's the first major tech company to use shingled magnetic recording disk drive tech. The drives are being bought at a significant savings over conventional PMR (Perpendicular Magnetic Recording) drives.
Host Managed SMR offers, Dropbox said, the most control over the way data is stored on the drive. It has developed software and server architecture standards for Magic Pocket, its custom-built storage infrastructure, to provide annual data durability of over 99.9999999999 per cent (12 nines), and availability of over 99.99 per cent.
WD said the HS14 has one of the lowest Watt/TB power footprints for online storage.
Dropbox reckoned its architecture and software techniques for these SMR drives can be transferred to SSDs if they become effective choices for Magic Pocket media.
Shorts
Cloud backupper Backblaze has written about connecting QNAP NAS to B2 Cloud Storage.
Dataguise has said its DgSecure software has been integrated with Snowflake's cloud-based data warehousing platform to provide end-to-end compliance-ready data analytics for enterprise customers affected by high levels of governmental oversight.
Jerome Wendt's DCIG believes NVMe is unleashing performance and storage system innovation. Read about it here.
Nutanix-focused data backupper HYCU has been issued a patent No. 9,998,339 for "application awareness for virtual infrastructure environments". HYCU Data Protection for Nutanix was designed to see through virtual machines to discover where every application is running and when a backup is initiated. This gets you enhanced automation, with no human involvement, to do the right procedure to backup and restore an application with the right application context.
Email and data security company Mimecast's German data centres have opened for business. Services are live and the first customers have begun their onboarding. Two new replicated data centres are in separate co-located facilities in Frankfurt am Main and operate on Mimecast's own proprietary cloud infrastructure and MimeOS software architecture.
Portworx, a cloud-native storage in containers firm, announced record momentum with more than 73 per cent customer growth since Q4 2017 including individual purchases of over $1m and production clusters over 100 nodes in size. Of the company's existing customers, 66 per cent are already running Portworx in production, and 30 per cent have purchased additional licences after experiencing production success with stateful containers.
Quobyte and NEC Deutschland GmbH have formalised a partnership to develop and offer a complete storage solution stack for HPC workloads based on NEC HPC hardware and Quobyte's Data Center File System software.
The always-announcing-something Storage Made Easy has said that ADVCOM, a French professional services company, has integrated the SME Enterprise File Fabric with its cloud services to help customers discover and catalogue personally identifiable information, a key factor in GDPR.
People
Greg Newman has become VP Marketing at Zadara, coming from Parsec Automation corp. and the manufacturing operations management software world.
Fadel Hamed has been hired as VP Customer Success at Cloudian, coming from similar position at Siemens Healthineers. ®