Cray slaps an all-flash makeover on its L300 array to do HPC stuff
ClusterStor node uses slower SAS SSDs
Cray has announced the L300F, an all-flash array for high-performance computing functioning as a speed booster for ClusterStor installations.
ClusterStor is a Lustre-running, scale-out, clustered storage array with L300 disk-only and L300N hybrid flash/disk models.
As the flash array leaders build out super-fast NVMe systems the, conservative HPC array makers, buttressed by high-performance parallel file system disk arrays, enter the flash array market with comparatively slow SSD arrays.
Cray's L300F is its L300 array given an all-flash array makeover using dual-port SAS SSDs. Hosts use Ethernet, InfiniBand or OPA to access the array.
The L300F, like other L300 products, has both object storage servers and targets inside. Cray said it has a high-availability design and will scale linearly, with no performance loss, as nodes are added to the cluster.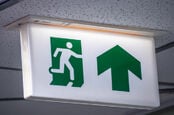 Linux literally loses its Lustre – HPC filesystem ditched in new kernel
READ MORE
It delivers 500,000 IOPS from its dual-controller, 2U x 24 drive configuration. The other L300 arrays use a larger 5U x 84 slot enclosure to hold their disks. The L300F's capacity is 76.8TB using 3.2TB SSDs and 38.4TB with 1.6TB drives.
E8 and Excelero NVMe-oF arrays punch out more than a million IOPS, as does NetApp's A800, so Cray's L300F flasher is slow by their standards.
Lustre is an open-source, scalable parallel file system used for cluster computing popular in supercomputing circles. It competes with other parallel file systems such as IBM's Spectrum Scale (GPFS). The L300F will support Lustre version 2.11, also announced today.
Cray has positioned the L300F as the high-performance component in a Lustre storage pool built with capacity-focused L300s for large, sequential IO and hybrid flash/disk L300Ns for mixed, random IOs. Its primary use case is to support high IOPS rates to/from a scratch storage pool in the Lustre file system, and so speed application run time held up by slow disk IO.
The previous approach of over-provisioning disks to increase IO rates is costly and inadequate in the face of flash's much lower latency, the company said.
For Cray the L300F augments the standard HDD pool with a flash storage pool optimised for workflows needing high performance for intermediate results (IOPS) as well as storing final results (high bandwidth). With the L300F, it is claimed that system administrators can manage a single file system instead of separate ones for flash and disk.
Cray is marketing the L300F to the leadership class of supercomputing environments. With its performance numbers, it wouldn't stand much chance in business data centres compared to NVMe drive arrays and NVMe-oF-accessed arrays.
NVMe technology is also moving into the HPC area. Both E8 and Excelero's NVMe-oF storage work with Spectrum Scale in HPC environments. Intel has also worked on Lustre and NVMe storage.
Cray may well need to revisit its ClusterStor development and put in NVMe and fabric support, if they aren't already on the roadmap.
A Cray View for ClusterStor admin tool provides an end-to-end view of Lustre jobs, network status and storage system performance. It delivers information on job runtime variability, event correlation and trend analysis, and custom alerts based on selected metrics.
The ClusterStor L300F and its required Neo 3.1 ClusterStor software release should be available by the end of August. ®