Mellanox has come to terms with the activist investor that's been stalking the company since 2017.
The battle began last November, when Starboard Value bought into Mellanox and agitated for change, claiming there was a "growing disparity between [Mellanox's] margins, growth, and stock price performance compared to its peer group".
Mellanox was initially neutral. The Ethernet/InfiniBand silicon, NIC and switch specialist said that its "operational and strategic priorities" were always under review.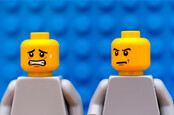 Mellanox says it ships enough ports not to need Starboard
READ MORE
As we noted at the time, Mellanox's performance in the long term hasn't shown the kind of declines that typically attracts activists' attentions, although it did experience a slowdown in Q4 2016 and early in 2017.
Things heated up over time, though. In January, Starboard Value said Mellanox was an under-performer and offered up nine nominations to the Mellanox board. Mellanox proposed an extraordinary general meeting in May to fend off the now-unwelcome attention.
Starboard principal Peter Field opposed that move on the basis that it would also delay the company's annual general meeting by three months.
Now, Mellanox has confirmed a rumour that popped up yesterday on Reuters: it's reached agreement with Starboard Value, with the activist trimming its board-seat demand from nine members to three.
The deal means three members of the Mellanox board (Dov Baharav, Shai Cohen and Tom Riordan) will step down to be replaced by two independent directors recommended by Starboard (Jon Olson and Greg Waters), and Jack Lazar, "an independent director mutually agreed upon by Mellanox and Starboard".
The current chair of the Mellanox audit committee, Thom Weatherford, will step down at the end of his current term in March 2019.
Starboard has also borrowed the Sword of Damocles to install in the boardroom: "The agreement also provides Starboard the right to appoint a direct representative to the Board if certain operating performance thresholds are not met for FY2018 or certain last twelve months ("LTM") periods during FY2019", the Mellanox announcement added. ®
Sponsored: Webcast: Ransomware has gone nuclear