This article is more than 1 year old
Virtual reality meets commercial reality as headset sales plunge
But growth is imminent as businesses buy and build VRs, and consumer kit improves
Shipments of virtual reality kit have plunged, but growth is just around the corner.
So said analyst firm IDC's Worldwide Quarterly Augmented and Virtual Reality Headset Tracker, which found "shipments of augmented reality (AR) and virtual reality (VR) headsets were down 30.5 per cent year over year, totalling 1.2 million units in the first quarter of 2018."
But IDC also predicts a rebound, for a couple of reasons.
One is that 2017 saw lots of headsets bundled with smartphones as the likes of Samsung and HTC sought to stoke the VR market. They've since stopped doing that, so this year's scary shipment figures reflect the end of giveaways rather than a dip in real demand.
Another is that new products like the Oculus Go are both superior to their predecessors and nicely-priced [Here's our review - Ed], so their arrival in stores should spur demand.
A third is that the VR/AR ecosystem has matured and it's therefore becoming easier to create content, which will see business adopt VR. IDC said it "believes the commercial market to be equally important and predicts it will grow from 24 per cent of VR headset shipments in 2018 to 44.6 per cent by 2022."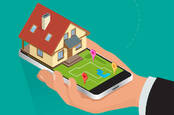 Please virtualize my reality before asking me to goggle at a fake one
READ MORE
That means business using VR for simulation, not entertainment, and saw IDC predict that the rollout of Microsoft's Windows Mixed Reality platform "should see strong opportunities in the commercial market as brands such as HP, Dell, and Lenovo bring their years of experience catering to enterprise buyers to the market."
But screenless viewers for AR – think goggle-boxes like Google cardboard that rely on smartphone screens – are on the way out as better and cheaper VR/AR kit arrives.
Overall IDC thinks there's good news on the way, with VR headsets "to grow from 8.1 million in 2018 to 39.2 million by the end of 2022, representing a five-year CAGR of 48.1 per cent." ®