This article is more than 1 year old
BlackBerry CEO: We need help from the channel to grow
Slight hiccup expected as former phone-maker diversifies
BlackBerry is focusing on luring in more channel partners and developers to maintain growth, CEO John Chen told shareholders at the company's AGM.
Chen has stabilised the business and jettisoned the devices unit that gave the company its name. Margins now reflect those of an enterprise software company – in the 70 per cents, compared to the 30-somethings when Chen joined the company in 2013, he said.
Software and services grew 14 per cent year-on-year to $747m. Analysts expect a one-off fall in the results for the most recent quarter, due to be announced on Friday, but to rise after that. However, to maintain growth Chen said BlackBerry needs to expand the partnerships with value-added resellers and independent software vendors.
BlackBerry remains a curious amalgamation of secure enterprise productivity and communications, the result of a merger with arch-rival Good, an embedded OS unit, and an IP licensing unit that gets most of the headlines. BlackBerry clawed back $940m from Qualcomm a year ago, and is aggressively going after Facebook.
BlackBerry introduced what became BBM, BlackBerry Messenger, in 2005, and it believes its functionality was heavily cannibalised by WhatsApp, acquired by Facebook for $19bn in 2014. BlackBerry wants a jury trial. Facebook has derided the claims.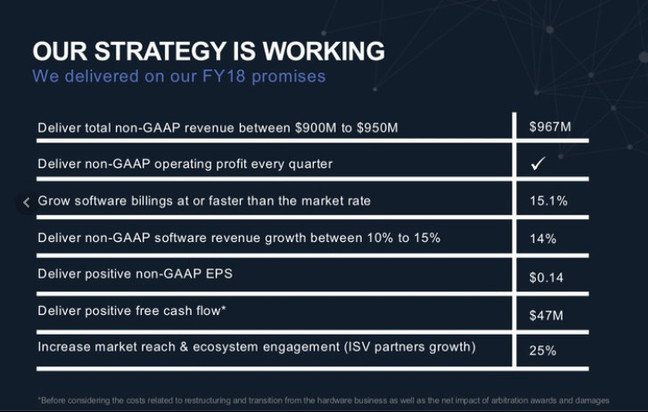 Click to enlarge
"As a software company the business model brings in more recurring revenue. But we don't want to let go of the technology, because it's very valuable technology," Chen told shareholders.
But it isn't all plain sailing. BlackBerry had to pay Nokia $137m to settle a payment dispute and was stung for $613m in one of the more notorious settlements with dormant micro-entity NTP in 2006.
Chen promised that revenue from platform licensing – to TCL's BlackBerry Mobile unit, and others – should start to grow.
But it's the embedded unit, built on the acquisition of QNX, that offers the most potential for growth. QNX is in more than 120 million cars ("you can touch them," said Chen) and Chen noted that most of the $1.3 trillion that the IDC estimates will be spent on connected "things" will be in the enterprise. Baidu's Apollo car platform is built on QNX.
The company reports this week. You can see all the slides from the AGM presentation here. ®