This article is more than 1 year old
Canadian utility makes blockchain upstarts bid for their ravenous rigs' electricity supply
Quebecois poutine the squeeze on cryptocurrency miners
One of Canada's largest utilities is planning to make blockchain companies bid for access to electricity.
Hydro Quebec says it will set aside a 500MW block of power that will be reserved for companies that are "using cryptography as applied to blockchain technology." Access to that block will be subject to a bidding process and companies that want to operate their servers and miners will be required to make bids in order to get power.
The starting rate for the bids will be an increase of 1 cent per kilowatt hour above the current price.
The move is an effort by Hydro Quebec to get a handle on an explosion of blockchain related activity (read: cryptocoin mining) that has caused a power crunch in Quebec. The company said earlier this month that it needed to take emergency measures to limit consumption and that "demand exceeds Hydro-Québec's short and medium-term capacity."
The process will not just be based on how much money companies are willing to spend. Hydro Quebec says it will also consider job implications in the bids, and companies that plan to hire people in Quebec and deliver higher paying jobs (calculated in payroll per MW) will get higher consideration.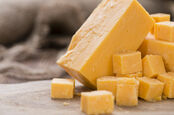 Quebec takes mature approach to 'grilled cheese' ban
READ MORE
"The goal of this process is to both maximize economic spinoffs for Québec and revenue for Hydro-Québec—in turn, pushing electricity rates down for customers," the utility said in unveiling the new plans.
The auction is one of the more novel ways local governments and utility companies have come up with the deal with the power crunch that has arisen in parts of the US and Canada where the cryptocoin mining and blockchain industries have brought their hefty appetites for power. Banks of servers loaded with GPUs do take a lot of juice.
Other towns have had to go as far as outright banning blockchain companies from setting up shop on their grids, for fear the resulting energy crunch was going to price regular customers right off the grid. ®