This article is more than 1 year old
Intel CEO Brian Krzanich quits biz after fling with coworker rumbled
Top chip boss broke rules by having 'consensual relationship' with staffer, probe finds
Intel chief exec Brian Krzanich has quit after his "past consensual relationship" with an employee came to light.
Staff flings are frowned upon in US corporate tech world. As such, Intel company policy bans bosses from having relationships with people who report to them, directly or indirectly.
In a statement issued within this hour, the chip maker said:
Intel was recently informed that Mr. Krzanich had a past consensual relationship with an Intel employee. An ongoing investigation by internal and external counsel has confirmed a violation of Intel's non-fraternization policy, which applies to all managers. Given the expectation that all employees will respect Intel's values and adhere to the company's code of conduct, the board has accepted Mr. Krzanich's resignation.
Krzanich will be replaced by interim CEO Bob Swan, who is otherwise the chief financial officer and an exec veep. It is not public knowledge who Krzanich, 58, had a liaison with since joining the biz in 1982, however, we understand the relationship was in the past and is over. Krzanich has two daughters with wife Brandee, whom he married in 1998.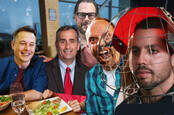 That time Brian Krzanich had dinner with Elon Musk, Marc Benioff, David Blaine and Lars from Metallica
READ MORE
For now, the processor giant is hunting for a new chief.
"The board believes strongly in Intel's strategy and we are confident in Bob Swan's ability to lead the company as we conduct a robust search for our next CEO," said Intel chairman Andy Bryant in a statement.
"Bob has been instrumental to the development and execution of Intel's strategy, and we know the company will continue to smoothly execute. We appreciate Brian's many contributions to Intel."
Intel was rocked in January by The Register's exclusive revelations of the Spectre and Meltdown vulnerabilities.
Most recently, OpenBSD disabled Intel hyper-threading on the grounds that "this can make timing cache attacks a lot easier".
We also recently revealed the existence of a security flaw within Chipzilla's Core and Xeon processor ranges that could be exploited to hoover up data from maths processing units – potentially allowing a clued-in attacker to extract or guess at encryption keys.
Intel has also stumbled repeatedly in trying to manufacture 10nm FinFET chips, struggled to get AI and Internet-of-Things projects off the ground, had some success with cellular modems, and experienced growing competition from its arch nemesis, AMD – in the form of Ryzen desktop and Epyc server processors challenging Intel Core and Xeon parts.
On the other hand, Intel's stock price stands today at $52.74 apiece, down 1.35 per cent on the news, yet nearly double its $23.95 figure when Krzanich took over as CEO in 2013. Last year, his pay package amounted to $19m, $5m of which was in salary and bonuses. ®