This article is more than 1 year old
Micron: Hot DRAM, we're still shifting piles of kit, but somebody's missing our XPoint
Won't say who but we'll point with an elbow. *Cough* Intel *Cough*
Micron rode strong demand for DRAM and flash to record revenues and profits for its third fiscal 2018 quarter (PDF), but XPoint chip sales to Intel collapsed.
Revenues were $7.8bn, up 40 per cent annually, with net profits of $3.8bn, more than twice last year's $1.7bn. Memory ruled the quarter with DRAM providing 71 per cent of revenue and trade NAND 25 per cent.
President and CEO Sanjay Mehrotra said: "We set new records for revenue in SSDs, Mobile Managed NAND and Automotive solutions along with Cloud/Enterprise and Graphics DRAM Memory. We see ongoing momentum and healthy industry fundamentals in the fourth quarter to close out an exceptionally strong fiscal 2018."
Combined DRAM and NAND data centre revenue rose 87 per cent year-on-year. The Compute and Networking unit saw revenues of $3.99bn, up 67 per cent on the year. Sales of cloud server and graphics memory more than doubled year-on-year with the only disappointing sector being the client product business.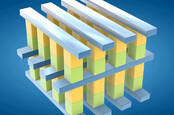 Just ONE THOUSAND times BETTER than FLASH! Intel, Micron's amazing claim
READ MORE
The mobile business had revenues of $1.75bn, up 55 per cent, while the embedded unit took revenues of $897m, an increase of 28 per cent.
Falling XPoint sales
Micron's storage business unit (SBU), with SSD revenue now more than half of its revenues, pulled in $1.1bn, up a relatively low 13 per cent. Micron said this reflected a shift of NAND supply to high-value mobile managed NAND.
In the earnings call, SVP and CFO Dave Zisner said: "This shift in NAND supply and lower 3D XPoint sales to our partner resulted in a 9 per cent sequential decline in our Storage Business Unit revenue."
He added: "We sold very little of 3D XPoint to our partner [Intel]."
The CFO added it was possible that there would be zero sales of the product to Intel in the current (fourth) quarter, answering a question to a Credit Suisse MD: "Assuming that we do not sell any 3D XPoint to our partner... [which] I wouldn't rule.. out."
For Micron, XPoint has been a disappointment because Intel hasn't sold enough Optane product. So much so that Mehrotra said: "We have been discussing the commercial terms of our future-generation 3D XPoint collaboration [with Intel]."
The CEO added: "We will provide updates as appropriate as these discussions progress further."
Micron still intends to introduce its first XPoint products in late calendar 2019, with meaningful revenue in 2020. That's five years after Intel introduced XPoint technology.
QLC NAND and nearline disk drives
Micron also talked about QLC (4bits/cell) NAND attacking disk drive sales.
Mehrotra said: "QLC SSD is built on our industry-leading 64-layer 3D NAND, utilizing the first-ever terabit NAND die in the industry. As we continue to introduce new SSD solutions on lower-cost, next-generation technologies, we believe that we can unlock new pools of demand that are currently being served by HDDs."
Wells Fargo analyst Aaron Rakers said Micron is quoting, for QLC NAND, a 1,000 program-erase cycle endurance versus 3,000 for TLC-based (3bits/cell) SSDs. It expects QLC NAND sales to be meaningful in 2019.
He said Micron and Intel are looking at QLC NAND SSDs taking sales from 2-2.4TB 10,000rm 2.5-inch disk drives and nearline 8TB 3.5-inch disk drives.
Rakers thinks QLC-based SSDs could address $4.5 to 5.0bn of the high-capacity/nearline enterprise HDD market by 2021.
Memory business boom and bust
Micron's next quarter revenues are expected to be between $8bn and $8.4bn, $8.2bn at the mid-point, and implying full-year revenues of $30.1Bn, almost 50 per cent higher than last year's $20.3bn.
The memory foundry business is traditionally one of repeated gluts and shortages as the industry over builds capacity and gets out of step with demand. Are there any signs of such an over-build situation coming round the block?
Micron sees strong and persistent demand, what is known as secular demand, for both NAND and DRAM and CFO Zinsner spoke of "secular growth trends driven by the data economy".
Mehrotra said: "Data-hungry applications are driving secular growth for memory and storage solutions... The industry we operate within is structurally different than in the past. Technology transitions require more capex and provide less bit gain, and the pace of those transitions has slowed, given increased process complexities. The result is a more consistent and stable supply/demand outlook. These structural changes have also resulted in improved ROI over the last several years."
Are the boom and bust days over?
On DRAM demand, Mehrotra said: "The demand drivers are diverse. They're secular in nature. Memory has become essential in terms of delivering the value proposition of the end market applications. So, this is what is really driving the overall robust demand drivers for our industry for DRAM.
"And whether it's in data centers or in mobile or in graphics or automotive applications, all of these need more memory. And memory is now really enabling higher value as well to the end market applications. So, yes, this all bodes well for the long-term healthy industry fundamentals."
It's boom... for now. ®