This article is more than 1 year old
Qumulo tries to SoC it to nearline with Xeon D integrated systems
Range extension encroaches on Dell's Isilon territory
Scale-out clustered filer Qumulo has introduced a nearline archive product, the K-144T.
The archive box fits alongside its all-flash P-Series and hybrid flash+disk QC filers. All three run its Qumulo File Fabric (QF2) software as does its EC2 implementation in AWS and data can be continuously replicated to, from and between its on-premises and in-cloud clusters
Qumulo says it uses industry-standard hardware and offers archive pricing with nearline array access speeds.
The Nearline Archive Series is a scale-out, clusterable K-144T box featuring:
1U enclosure containing 12 x 3.5-inch 12TB, 7,200rpm SATA disk drives and 3 x 800GB SSDs
Xeon-D SoC with D-1531 6-core, 2.2GHz cpu, 64GB integrated memory and dual 10GbitE networking
144TB raw capacity
2.4GB/sec reads from minimum 6-node cluster, 8 GB/sec from 20-node cluster
30GB/sec from a rack
6GB/sec and 3GB/sec writes per 1PB usable capacity
From 6 to 1,000 node clusters
NFS (v3), SMB (v2.1), and REST protocols
Erasure coding and snapshots
The data sheet declares: "A minimum six-node cluster performs reads at 2.4GB/sec. Performance increases linearly with each node you add. For example, a twenty node configuration has an impressive 8GB/sec read performance. You can achieve read throughput of 30GB/sec in a single rack."
But that is not linear. The 6 and 20-node setups are rated at 0.4GB/sec per node while to get 30GB/sec from a rack means 0.71GB/sec with 42 nodes and 0.75GB/sec with 40. We have asked Qumulo about this implied inconsistency.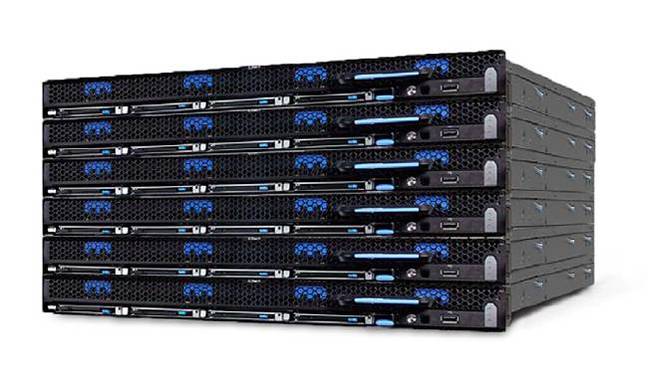 Qumulo Nearline Archive Series
Dell EMC's Isilon scale-out filer range includes the A200 and A2000 archive systems.
They come in 4U x 60-slot chassis (A200) or 4U x 80-slot box (A2000) and hold up to 480TB and 800TB/chassis respectively, with the A2000 using 10TB SATA drives and the A200 2, 4 or 8TB ones. The A2000 has a 200TB/U density, better than Qumulo's Nearline Archive series.
The Isilon boxes also have deduplication.
Qumulo claims its Nearline Archive is "the first scale-out storage solution to use high density 12TB drives and system-on-a-chip to provide unprecedented performance and economics". It hasn't provided any pricing information.
Download a Qumulo K-144T datasheet here. ®