This article is more than 1 year old
By gum, that's chewy: Samsung's NF1 fattens M.2 card capacity with wider gumstick format
8TB drive can give 2U diskless servers 576TB capacity
Samsung's 8TB next-generation small form factor (NGSFF) NF1 flash card is to be standardised by the JEDEC Solid State Technology Association in October.
It measures 11cm x 3.05cm, compared to M.2's 11cm x 2.2cm. In that space Samsung has fitted two rows of four 256Gbit TLC 3D V-NAND chip packages on each side - 16 chip packages in all - providing 8TB capacity. Samsung said this is double M.2 card capacity. In fact, it is quadruple its own 970 M.2 format products.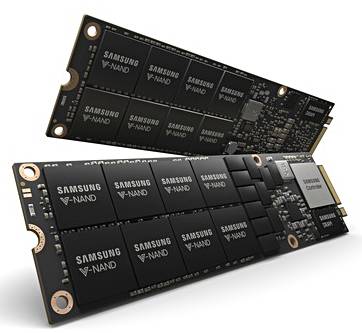 Sammy's 8TB NF1 card
Samsung thinks its NF1 SSD will replace 2.5-inch NVMe SSDs by enabling up to three times the system density in existing server infrastructure. A 2U rack server could have 72 of these cards, giving it 576TB of storage and needing less electricity than the same server with 576TB of disk.
The interface is NVMe v1.3 running across PCIe gen 4. The NF1 product has 12GB of LPDDR4 DRAM for faster and more energy-efficient data processing. Its performance is 500,000/50,000 random read/write IOPS, and 3.1 and 2.0 GB/sec sequential read and write performance.
Samsung said it has been optimised for data-intensive analytics and virtualization applications, and enables the 2U server to do more than 1 million IOPS.
It's rated at 1.3 drive writes per day with a three-year warranty.
Samsung has 512Gbit chips coming later this year, implying a 16TB card, if the chip packages are the same size as those on the 8TB card. And that means said 2U rack server could then have 1.132PB of capacity.
How this NGSFF format will play out against the much larger ruler formats is anyone's guess. ®