Buttonless and port-free: Expect the next iPhone to be as smooth as a baby's bum
Wot? No Lightning?
---
Apple prompted complaints when it removed the 3.5mm audio port from iPhones in 2016. Expect future models to be even more radical.
The Cupertino giant mulled the idea of exterminating the Lightning port entirely when it was designing the iPhone X, according to Bloomberg's Mark Gurman.
"During the development of the iPhone X, Apple weighed removing the wired charging system entirely," Gurman wrote. "That wasn't feasible at the time because wireless charging was still slower than traditional methods. Including a wireless charger with new iPhones would also significantly raise the price of the phones."
With the consumer shift to storing more data in the cloud, and to using wireless radio for listening to music or viewing material on a big screen, the local I/O peripheral now looks as nervous as a turkey checking the calendar and discovering it's September.
Today's electromagnetic induction charging methods still have some way to go before matching the speeds of wired charging. Now, half an hour from a rapid charger provides a day's use, but electromagnetic may eventually look archaic.
Inductive charging borrows Nikola Tesla's idea of wireless power transmission. It's a battlefield right now, but promises charging without ever removing the phone from your pocket: your furniture or a beacon in the corner of the room provides the power.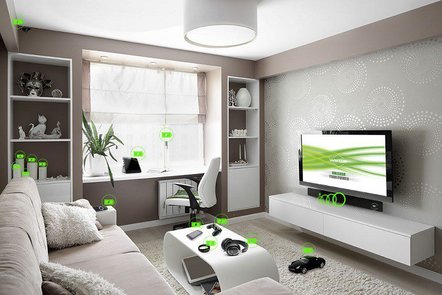 Energous envisages ambient charging replacing wired power transmission – one less need for a USB or Lightning port on your phone
Energous (WattUp) and Ossia (Cota) are the leaders here, with Energous claiming to be able to provide power to multiple devices from three feet away, up to a 30-foot "envelope". Apple is reportedly exploring Energous technology.
If Apple believes the Lightning port can be sacrificed, then surely buttons are an endangered species. Yet replacing physical switches with a pressure sensitive nub can go horribly wrong: just ask HTC.
So the only conceivable apertures on the iPhone of the future will be holes for the microphone and speaker.
And a Notch, of course. ®
Similar topics
Broader topics