This article is more than 1 year old
'Black hat' extortionist thrown back in the clink after Yelp-slamming biz
Protip: When freshly paroled, don't immediately trash your victim online
Sometimes it's best to just let old grudges go.
A man previously sent down for trying extort a company with hacking threats has been thrown back behind bars for more than eight years for targeting that same business with negative reviews just weeks after being released.
William Stanley was sentenced earlier this month to 97 months in the cooler for retaliation against a victim. He had previously been convicted of one count of extortion against Generational Equity (GE), a Texas-based financial services firm, after he demanded money on threats of posting, and promoting via SEO, negative reviews of the firm back in 2013 and 2014.
Stanley pled guilty to one count, and received a 37-month prison sentence, in January 2016. The then-53-year-old would be released to a halfway house later that year, only to be accused one month later of again targeting the firm with a negative Yelp review and an SEO-optimized blog page collecting and displaying negative articles about the financial outfit.
"In the review, the author further identified himself as 'William L Stanley' and discussed black-hat SEO work which GE purportedly paid him to perform in the past against some of GE's competitors," a criminal complaint, filed in a US federal district court in Dallas, Texas, claimed.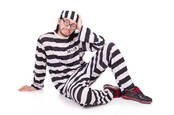 Script kiddie goes from 'Bitcoin Baron' to 'Lockup Lodger' after DDoSing 911 systems
READ MORE
"That same day, a negative workplace review of GE was posted on Glassdoor, wherein the author claimed to be a 'former employee'."
Investigators would later trace that traffic, and a Wordpress site created to hold links to other negative articles and posts about GE, to the halfway house where Stanley was staying.
That was enough to bring new federal charges against Stanley namely retaliation against a witness, victim, or informant. The new charge brought him a new prison sentence: nearly three times longer than his original stretch inside the Big House, which should give him long enough to consider his actions.
Stanley was also slapped with a $5.6m restitution bill to GE, though it's unclear how he would manage to pay that. Although an American citizen, he was living with his Romanian wife in Romania until he was pinched by the Feds in 2014 while traveling between Europe and the US. ®