This article is more than 1 year old
HTC U12+: You said we should wait and review the retail product. Hate to break it to you, but...
WTF were they thinking?
Review "There will be no HTC U12," the man from HTC told journalists in briefings ahead of the launch of this year's flagship. "And no U12++." Company executives stressed that, for 2018, there would be just one flagship, and the HTC U12+ was it.
HTC may be advised to revisit that statement. Why?
The HTC U12+ is a sleek, powerful and impressive phone that matches or even exceeds the performance of the best smartphone cameras on the market. It's cheaper than rival Samsung and rejoices in a clean design. It feels great in the hand. The audio is superb. There's no Notch! So far, so good.
But it also features Pressure Sensitive Buttons (capitalisation by HTC), which are buttons with no mechanical switch – they offer haptic feedback instead. This worked so poorly in our pre-release review unit that we decided to wait for early retail units rather than describe the seed device sent to reviewers. This was a first for The Register.
We also encountered problems with the touch zones at the side of the phone, which are designed respond to taps.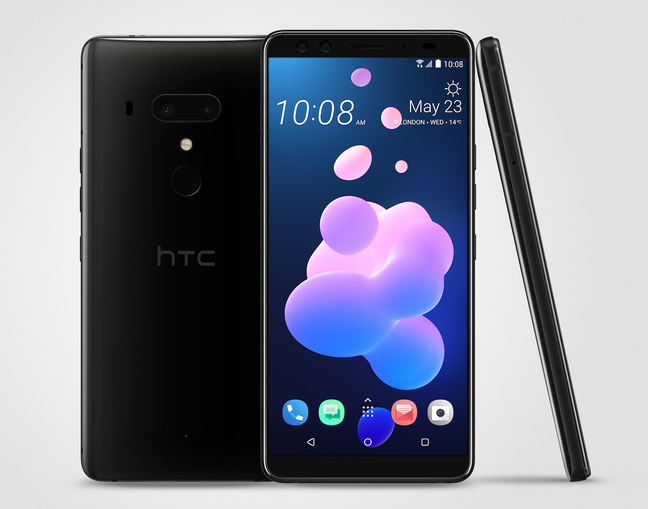 Click to enlarge any image
HTC seems proud of the PSBs. Haptic functions don't necessarily have to be inferior to the mechanical switch designs they replace. Apple successfully replaced the iPhone's home button and (somewhat successfully) switched out the MacBook Pro's trackpad for a Force Touch haptic design that artificially generates vibration feedback. Fewer moving parts should make for a more reliable phone. And HTC has a proud history of trailblazing innovations like an all-aluminium design, and stereo front-facing speakers that set a high standard and were widely copied.
Unfortunately, it is hard to find any aspect of the experience with the PSBs superior to using the physical buttons on the HTC U12+'s predecessors. HTC continues to sell (but not in the US) the outstanding HTC 11+ (currently £566.10 to Club members – membership is free). This flaw alone makes the 12+ hard to recommend. But I'll go into this in more depth below.
If the HTC U12+ had regular buttons (this device could be called "HTC U12 Minus", as in Minus the Pressure Sensitive Buttons), it would be up there with the year's best smartphones. Which is why that pledge needs to be revisited. A U12 Minus would win a warm recommendation.
Design

Last year HTC was the outlier with its striking, two-tone, all-glass U11 flagship. Apple switched to all-glass last year, and this year many phones have glass backs too. This isn't always an improvement, but what made the U11 so appealing was its design. It incorporated a comfortable, curved design that felt great in the hand, and which (strangely, or not so strangely – a boxy square design is always reminding you of its edges) made the phone feel lighter than it was. The U12+ repeats the trick. It's actually packing in a lot of phone but with the mass tapering away into your palm, this is a phone built for comfort. It feels considerably lighter than its 188g.
The display panel forms a distinct ridge over the aluminium, reminding me of the sharp-edged HTC One M9. The rear glass comes in iridescent red/yellow – a different hue to last year's Solar Red model – and a "blue" (which doesn't look blue at all) with a translucent back. The red model's "Liquid Surface" design is purposefully far more assertive than the subtle colour change of the Huawei P20 models. The retail unit reviewed here is the translucent model, subtly allowing a view of the phone's innards. Partially, at least. The battery area is obscured by inlaid stripes. Evidently the designers thought that wasn't particularly sexy or expensive looking, so saved its modesty.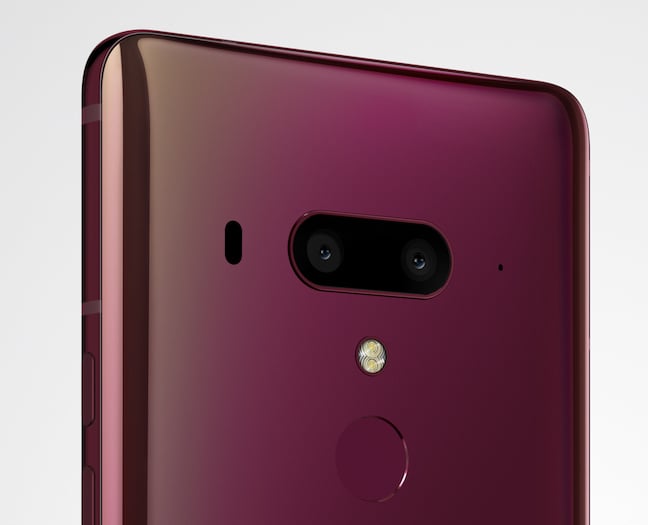 The innards are standard 2018 flagship fare: Snapdragon 845, 6GB of RAM, 64GB or 128GB of flash storage, and single SIM models have a microSD slot. The phone is IP68 rated.
Like Samsung, HTC doesn't feel the need to incorporate a Notch into a tall 18:9 ratio display, and by doing so both make their fashion-victim rivals look pretty silly. HTC goes further than Samsung and retains 90-degree corners, so you lose absolutely no pixels. HTC remains faithful to Samsung's SLCD panels, as opposed to using OLED. The advantage of SLCD is a thinner panel, with no air gap, meaning less glare, and it's found more often in TVs than phones. HTC have made much recently of how fast and responsive the interaction with the display is, and the U12+ is no exception.
The contrast and quality was excellent, giving generally good performance outdoors. However, I found the automatic brightness control somewhat over-responsive, sometimes dimming too quickly in the evening, so when I resumed the screen was too dark to read. That pause while I waited for it to readjust happened more than once.
It's nice to have an always-on display giving you an extra clock in the house, although this one is rather dim.

You can reduce the 1440x2800 Quad HD+ resolution down to FHD+ (1080x1920) with a simple toggle. The phone is calibrated to DCI-P3, but you can switch back to sRGB if you find this too saturated.
Although the device lacks a 3.5mm audio port, audio is again well catered for in various ways. The U12+ has four microphones and a strong stereo speaker setup, with the tweeter at the top front and the woofer part on the bottom, firing down.
HTC says that thanks to rejigging the internals, it is 50 per cent louder than the U11 without distortion. It's a promise the HTC U12+ fulfils, with strikingly loud and clear music playback. It lacks bass, so you wouldn't want to leave it on for too long, but it passes the litmus test of allowing me to follow speech radio in the kitchen with lots of background sound – that's a test almost all smartphones fail.
Neatly, HTC switches modes from the treble/bass separation to a Theatre Mode for videos. It really comes into its own with the bundled USonic USB-C headphones, which give the user the best out-of-the-box music experience of any phone. These are last year's USonic buds, but HTC still offers a fairly unique proposition in this market. The USonics dimension your skull and produce a personalised sound profile. The USB-to-3.5mm audio converter (added at checkout) contains a DAC. The absence of a 3.5mm port is a deal-breaker for some, which is fair enough. But at least you're compensated. This is a phone that knows it's being held – and what's on so it won't rotate or dim during a video, if you're holding it (you can turn this off).