Qualcomm is seemingly working on another high-end 64-bit Arm-compatible system-on-chip for Windows 10 PCs – the Snapdragon 1000.
Here's the US chip designer's line up so far for personal computers: the Snapdragon 835, which made its way into a few moderately overpriced and slightly lackluster touchscreen laptops; the 845 announced in December for top-end phones as well as notebooks; and the 850, a mildly faster version of the 845, announced earlier this month.
Qualcomm, best known for designing smartphone processors and cellular modems, is rather keen to break into the always-connected netbook market – mid-range laptops that can reach the internet whenever you want, within reason, via builtin 4G or Wi-Fi. So far, its PC system-on-chips have been more like super-phone processors than proper laptop-grade parts.
There are a couple of drawbacks to Arm-powered laptops, especially Windows ones: software and performance. While Arm builds of applications are emerging on the Windows Store, your typical x86 Windows app has to be run under emulation, the speed of which is admirable but not perfect. Windows 10 on Arm has only just embraced 64-bit programs, despite the underlying system-on-chip being 64-bit Armv8-A compatible.
There's also the question of whether mobile-grade Arm-based processors can truly match Intel and AMD CPUs within the slab-top market. In benchmarks, it appears Arm designs – such as Apple's custom parts and Arm's Cortex-A series – are catching up. However, real world use is another story.
The benefits are longer battery life, and slimmer fan-less PCs.
Watt's all the fuss
Well, those benefits and downsides may about to be shaken up. The Arm world has typically been a low-power, do-more-with-less affair, which suits phones, tablets, and embedded hardware. To get serious in the desktop or server world, it has to start throwing those power budgets to the wind, and sucking up some watts to drive performance.
Qualcomm's engineers are believed to be doing just that, by working on a Snapdragon system-on-chip that draws as much as 12W, it is claimed.
This laptop-grade Snapdragon 1000 has been rumored for the past few weeks. This isn't surprising: the semiconductor industry is rife with speculation all the time, and no one should be shocked that Qualcomm is working on future chips.
However, over the weekend, we caught sight of a few Qualcomm engineers' job descriptions on LinkedIn that mention the SDM1000, so perhaps the whisperings are real.
One Microsoft Windows multimedia project engineer said it is her job to "oversee and manage all test operations on Qualcomm Snapdragon premium-tier chipset SDM845 and SDM1000 for desktop." Another, who left in January 2018, "contributed to LTE demapper hardware control firmware design and implementation" for the SDM1000. And another said he oversaw the validation and testing of a "physically isolated secure processing unit on SDM1000."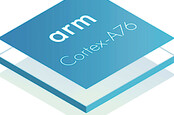 Arm emits Cortex-A76 – its first 64-bit-only CPU core (in kernel mode)
READ MORE
What exactly is the Snapdragon 1000? The CPU cores together draw up to 6.5W, and up to 12W total for the 20-by-15mm system-on-chip, it supports at least 16GB of LPDDR4X RAM and 256GB of flash storage, and it features gigabit Wi-Fi and LTE, according to the specifications of a hardware development kit seen by German-language tech sheet WinFuture.
The SDM1000 is expected to use Arm Cortex-A76 cores fabricated using TSMC's 7nm process node. Arm reckoned an A76-based system-on-chip should be comparable to a 15W Intel Core i5 mobile part. Asus is said to be working on a PC codenamed Primus using the SDM1000.
In short, judging from these details, the Snapdragon 1000 is physically smaller than rival x86 parts, and drawing a little less power than its competition – by way of comparison, Intel's Y and U series of Core processors draw up to 4.5W to 15W, and AMD's Ryzen Mobile parts draw 15W.
As we saw with the Snapdragon 835, the final price of the machines – including the 4G LTE plans – and application performance will make or break this fat Arm system-on-chip. There is no publicly known launch date for this processor.
A spokesperson for Qualcomm was not available for immediate comment. ®
Similar topics
Narrower topics