This article is more than 1 year old
If you store your data, I tell you I'm your man: You flash some, lose some, all arrays to me
Double up or quit, double stake or split – the storage roundup
If we've played our cards right, you'll be up to date on the storage goings-on of the week. Otherwise you'll be lost in the shuffle. Here's a hand full of aces, kings and queens – and don't forget the joker.
CTERA
This secure edge to cloud file services supplier has expanded its appliance product line with faster, larger, and more versatile edge filers for remote and branch offices (ROBO) IT environment. The new CTERA HC Series Edge Filers support 96TB of raw local storage, 10GitbE interfaces, all-flash options, and the ability to spin multiple virtual machines on the same device.
They support petabyte-scale cloud tiering to any public or private cloud and have High-availability and DR facilities.
CTERA HC Series Edge Filers are available today. Models scale from a 4-bay 1U system to a 12-bay 2U system.
More info here.

CTERA HC appliances
Fujitsu
At ISC 2018, Fujitsu has a prototype version of an HPC system node which plays a role in the EU Horizon 2020 programme's NEXTGenIO project. This addresses the bottleneck between high-performance compute and storage systems delivering access to the huge quantities of data required.
Fujitsu said it's vital to keep very large data sets in fast memory, as close to processing units as possible, for applications like transfer and reinforcement learning.
The Fujitsu NEXTGenIO project prototype system uses Intel Optane DC Persistent Memory (NVRAM) based on 3D XPoint memory tech. It offers byte-addressable access for future Intel Xeon processors at much higher speeds than SSDs.
Glenn Fitzgerald, CTO for the Product business EMEIA at Fujitsu, said this is "opening the door to exascale computing".
Professor Mark Parsons, director of EPCC, associate dean for e-Research at the University of Edinburgh, and coordinator of NEXTGenIO, said: "NVRAM technology will transform HPC I/O and having a design and manufacturing facility in Europe as capable as Fujitsu's Augsburg facility has allowed NEXTGenIO to develop one of the first working systems using this revolutionary memory."
Fujitsu is developing Japan's post-K exascale computer and that uses Arm8-based cores, rather than Xeon, and also does not, as far as we know, use Optane NVRAM. The post-K seems to be an Intel-free zone.
Hitachi Storage-as-a-Service
Storage-as-a-Service (STaaS) from Hitachi Vantara is now generally available and claimed to be the industry's first using a pre-engineered service catalog for on-premises STaaS.
STaaS Essentials provides basic services comparable to public cloud. The standard STaaS option builds on the Essential service with the addition of end-to-end storage management with host provisioning, full change and request management and incident resolution from host storage.
Both STaaS offerings can be deployed on premises to provide a fully managed service that includes performance guarantees and capacity management.
Hitachi Vantara said they have a simple and easy to understand rate card and pay-per-use consumption model that allows customers to flex storage up or down as needed.
These two STaaS offerings have reporting with dashboards.
HPE casts its scale-out NAS OEM net
HPE, already OEM'ing scale-out NAS systems from Qumulo and DDN, and partnering with WekaIO in the area, has partnered with Rozo to add a fourth scale-out file system partner.
Customers can buy an Apollo 70 from HPE with the RozoFS software installed on it.
This is a file system for distributed storage that can be deployed in public, private or hybrid clouds, with high performance and high data availability. Rozo has a patented erasure coding technology, Mojette Transform, which works fast and efficiently on small files and on sequential workloads. The erasure-coded data is protected against the failure of a storage node and the failure of multiple disks on the same node.
Memory price fixing?
Digitimes has reported that Samsung, SK Hynix and Micron are facing anti-trust investigations in China, focused on price-fixing. Chinese companies buy a lot of their DRAM and think its pricey.
If found guilty, they could pay up to $8bn in fines. That could spur US and EU anti-trust regulators to open their own investigations, which would expose the three to a world of potential financial pain. But DRAM buyers could look forward to cheaper memory.
The three suppliers, who control around 90 per cent of the DRAM market, have confirmed regulator visits to their Chinese offices. They deny any wrongdoing.
Oracle
The database colossus has announced the release of Oracle Linux Storage Appliance 1.7. It allows building of NFS and Samba shared storage with attached NVMe or block volumes on Oracle Cloud Infrastructure (OCI).
The 1.7 release introduces:
Appliance instance migration: The appliance can be migrated and deployed on another compute instance, and the block volumes storage pool is reconfigured on the new instance. No shared file systems are migrated during the appliance migration, as they remain on the existing block volumes.
Support for dynamic groups through instance principals: When the appliance instance is configured as part of an OCI dynamic group, you no longer need to configure service access on the appliance console to back up and restore shares using the OCI object storage service. If you have configured credentials for OCI service access on the appliance console, this will take precedence over the instance's dynamic group authentication on OCI.
Exports Mount and Map command-line tool: This feature auto-generates NFS export mount and SMB export map commands and pre-populates parameters so that you can copy and paste the command line to mount your NFS and SMB share exports in your cloud tenancy.
Web console UI enhancements: Additional appliance platform information including the OCI shape type, instance name, and creation timestamp are now displayed on the console 'Appliance' page.
Quantum and NVMe
Quantum is exhibiting at the ISC High Performance 2018 show in Frankfurt and will show StorNext-powered Xcellis Scale-out NAS storage products.
Testing has showed Xcellis can deliver streaming performance to a single NFS client at 2.1 GB/sec, and up to 4.8GB/sec to a single distributed LAN client over a 40GbitE network.
But for a client accessing a single Xcellis Scale-out NAS appliance over two 100 GbitE connections where the data path between client and storage is direct to NVMe storage presented by Excelero NVMesh as block-level devices, peak performance through the file system was recorded at 17 GB/sec, outperforming enterprise-class NAS providers and NAS-focused startups for HPC projects.
We may see a partnership emerge between Excelero and Quantum, with Excelero providing an NVMe-oF storage layer option underneath StorNext/Xcellis.
Seagate goes Xboxing
Seagate has released 500GB, 1TB and 2TB external flash drives for the Xbox One games console, called Game Drive for Xbox. They are installed in less than 2 minutes and recognised by the console. It stores games and data on them just as on the console's internal hard drive.
Games are claimed to load and operate faster. These fancy drives will be available later this summer, priced at $150 for 500GB, $300 for 1TB and $600 for 2TB.
Object storage open sourcery from SwiftStack
SwiftStack is offering new capabilities for multi-cloud use cases and simplifying workflows spanning private data centers and public clouds, such as Amazon Web Services and Google Cloud Platform. These have been contributed to the open-source community in the newly created 1space project.
SwiftStack provides universal access over both file protocols and object APIs to a single storage namespace, and it's increasingly used for distributed workflows across multiple geographic regions and multiple clouds.
It provides live migration of applications and data between private or public clouds. A single multi-cloud namespace allows the migration to be transparent to the application and it utilises all bandwidth across the cluster to move data quickly.
SwiftStack has enhanced its policy engine that manages data across its entire lifecycle in multi-cloud deployments. As the value of data changes, its location can automatically change, while remaining within the single namespace.
Don Jaworski, CEO of SwiftStack, said: "These product and technology innovations help workflows span both private and public infrastructure, where data is automatically placed via policy where applications can best utilize it. Getting your data on cloud-native infrastructure is a key first step in realizing multi-cloud."
Swiftack's multi-cloud technology has been contributed to the open-source 1space project. The charter of 1space is to connect data namespaces across multiple private and public clouds. It enables multi-cloud data placement and access capabilities in SwiftStack and supports both the S3 and Swift APIs.
1Space is available now on GitHub.
Vexata supercharges array (again)
Vexata has added NVMe over Fabrics access to its VX-100F array, prodding it to higher performance.
The VX-100F array uses 64 x NVMe flash drives and has FPGA-enhanced controllers accessing the drives in parallel over lossless Ethernet. It delivers 70GB/sec throughput and 7 million IOPS with a 200μs response time.
The 6U arrays now support 8TB drives, giving a maximum raw capacity of 512TB (64 x 8TB SSDs), and 435TB of useable capacity.
VX-OS 3.5 adds NVMe over Fabrics (NVME-oF) support and pumps the performance higher, to 80GB/sec and up to 8 million IOPSin a fully loaded VX-100F 6u chassis.
The improved performance with VX-OS 3.5 comes from:
Improvements in the scheduling algorithm within the VX-100F system that provides improved latency and hence better throughput performance across all protocols
VX-OS 3.5 is the first release to support the NVMe over Fabric (NVMe-oF) protocol, so the latencies specified (35μs write and 90μs read) are a result of to the improved efficiency of the NVMe-oF host stack
The system supports all NVMe-oF (NVMe-oF via GbitE using RoCE v2 and NVMe-oF via Fibre Channel) or mixed modes of NVMe-oF and standard FC (SCSI) within the same chassis to allow customers to non-disruptively migrate to NVMe-oF services.
The new software also provides new policy based management and native integration with Active Directory and role-based access control to provide better management in large-scale deployments.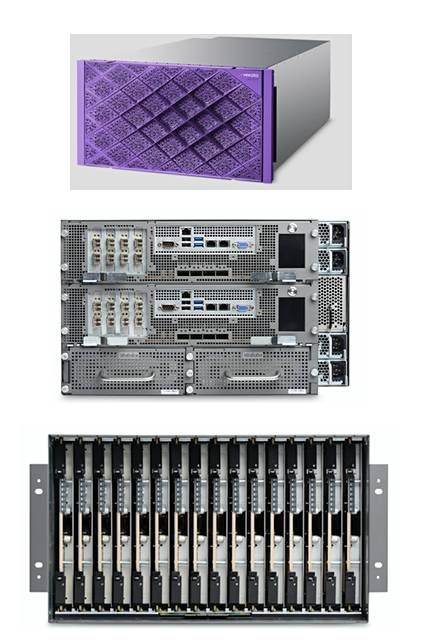 Vexata VX-100F chassis (top) rear (middle) and front behind age bezel (bottom)
Shorts
FPGA specialist Gidel launched a lossless compression IP that reduces storage needs by over 50 per cent. It utilises only 1 per cent of the FPGA and has a power consumption of less than 0.2W on an FPGA board.
Immuta's data management platform for AI applies regulations like GDPR on all data before it goes into data scientists' algorithms, providing access to all data in a legal and ethical manner. It has customers like Barclays and has closed $20m in Series B funding from DFJ Growth and Dell Technologies Capital.
ADVCOM, a French professional services company, has integrated the SME Enterprise File Fabric with its cloud offerings so customers can discover and catalogue personally identifiable information (PII); useful for the GDPR. It said its BeSafe cloud uses a certified stack provided by SME File Fabric and OpenIO SDS enables customers to reduce the cost of storage, improve the user experience, shore up security and compliance, and increase overall infrastructure resiliency, while being ready to face data protection legislation.
Snowflake Computing, with its data warehouse in the Amazon cloud, is now FedRAMP Ready. That means it's on its way to becoming FedRAMP-authorized.
CEO-less Tintri has received a non-compliance notice from Nasdaq because it has not yet filed its 10-Q report for the fiscal quarter ended 30 April. It must submit a plan to fix this by 2 July and Nasdaq may then grant it 180 days to implement the plan, or it will face delisting. This threat is probably irrelevant to struggling Tintri, which is facing bankruptcy or a sale due to falling revenues and running out of cash.
Veeam and HPE have partnered to offer Veeam Training Courses at HPE Education Centers. Veeam Hyper-Availability solutions will be integrated into HPE's global supply chain processes and systems, and Veeam will be available through HPE's on-premises consumption services, as part of GreenLake. ®