Chrome sends old Macs on permanent Safari: Browser bricks itself
Google puts Mavericks on a cargo plane outta Hong Kong
Apple fans who still run macOS Mavericks and earlier on their computers won't be able to run Google's Chrome browser any more.
Reg readers tell us that their copies of Chrome have automatically updated to a version of the browser that requires macOS 10.10 (aka Yosemite), meaning anyone running 10.9 Mavericks and below can no longer launch the browser, period.
This is not an unexpected development. Google has been warning Mac owners for months that it would be ending support for Mavericks. Currently, Chrome's requirements page lists MacOS 10.10 as the oldest supported version.
Mavericks isn't exactly a spring chicken, either. The OS was released in October of 2013, and hasn't had a major update in almost two years. The latest stable version of macOS is 10.13 High Sierra, and 10.14 Mojave is in beta.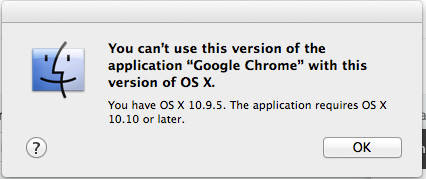 Mavericks users are now locked out of Chrome
Still, as Reg reader Mike McCartney noted, the move means that Chrome is no longer an option for users who rely on older Macs.
"The automatic Chrome browser update disables Chrome on versions of OSX before 10.10," McCartney told us. "You can't even submit an error report because it can't be opened."
As it stands, Mavericks users can opt instead to use Apple's bundled Safari browser or Mozilla's Firefox, which still supports MacOS 10.9. Sadly, Opera does not seem to be an option, as that browser requires Yosemite or later.
For those that have the hardware to run Yosemite, it is a free update for Mavericks user, should you decide you absolutely need to run Chrome. ®
Speaking of outdated kit: We earlier reported that Microsoft's Patch Tuesday security updates for Windows 7 won't work if you're using a machine with a CPU so old it doesn't support SSE2 instructions, ie: anything likely older than a Pentium 4 from the year 2000. Redmond has understandably given up trying to get its fixes to work for such old hardware.
"Upgrade your machines with a processor that supports SSE2 or virtualize those machines," is Microsoft's latest recommendation for people running Windows 7 unable to get the latest patches – from March onwards – to work without crashing their system.