DDN is upping array capacities and access speeds with one eye on its traditional HPC customer base and the other on businesses that are testing or deploying deep learning architectures.
AI, or perhaps more accurately Machine Learning, could be a gift that keeps on giving for storage and systems players as customers try to crunch through ever growing volumes of business data in a decent time.
DDN has two parallel file system scale-out arrays – EXAScaler using Lustre and the GRIDScaler using Spectrum Scale (GPFS for historians). It has just bought Intel's Lustre assets, including its development and support teams, and aims to help accelerate Lustre's development, which is lagging compared to IBM's Spectrum Scale.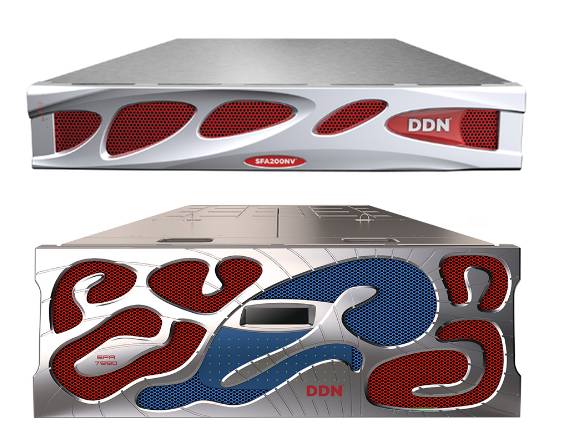 SFA200NV (top) and SFA7990 (bottom) ... nice swirly bezel
Parallel file systems provide faster access to data than sequential access filer software, particularly as capacities and the number of users rise.
EXAScaler v4.0 software provides better metadata performance, integrated monitoring, improved security, and simpler installation and deployment. We await things like NVMe and NVMe-oF support, which are already in Spectrum Scale.
There are two hot flash boxes, the SFA200NV and 400NV (datasheets here), which have 2U x 24-2-5-inch bays that can use dual-port NVMe flash drives.
Toshiba CM5 dual-port NVMe SSDs store up to 15.36TB of 64-layer, TLC (3bits/cell) 3D NAND, meaning 368.6TB in 2U, about 184TB/U storage density.
Both have active/active controllers with declustered RAID supporting erasure coding schemes.
The 200NV has single CPU controllers and 8 x FC32 or 4 x EDR 40/100Gbit/s InfiniBand links. Performance is rated at up to 20GB/sec sequential read. 16GB/sec sequential write and 1 million IOPS.
The more powerful 400NV does up to 40GB/sec sequential read, 32GB/sec sequential write and 3 million IOPS, with dual CPUs/controller and 8 x EDR InfiniBand links. These numbers are for block access.
These 200NV and 400NV arrays can be used for block storage or function as EXAScaler and GRIDScaler building blocks.
Turning to bulk disk storage, the SFA7990 is an active/active controller, hybrid flash disk array with 90 x 3.5-inch drive bays for SSDs or, more likely, disk drives. That means, with 10TB drives, you get 900TB in 4U (225TB/U storage density – better than the SFA200NV/400NV) and, with the four supported 4U x 90 bay expansion cabs, 4.5PB in a rack. That's better storage density compared to flash and it's cheaper.
This array has 4 x EDR InfiniBand 40/100Gbit/s links, or 8 x FC16 – not FC32 as in the SFA200NV, though we expect that's coming. It can used as a building block for EXAScaler or GRIDScaler systems. ®