This article is more than 1 year old
Taiwanese tech upstarts stole our RAM secrets and staff, claims Micron
Chinese DRAM drama – what you need to know
Analysis Micron is alleging United Microelectronics Corporation (UMC) of Taiwan blatantly stole its intellectual property and gave it to a Chinese DRAM foundry startup, Fujian Jinhua Integrated Circuit Company.
Following this alleged theft, Chinese regulators opened an DRAM price-fixing inquiry against memory-makers Micron, Samsung, and SK Hynix – and Fujian Jinhua and UMC accused Micron of patent infringement in China.
"Micron confirms that on December 4, 2017, the company filed a civil suit in California under the Defend Trade Secrets Act against UMC and Jinhua for theft of its trade secrets and other misconduct," Micron told The Register this week. "Micron aggressively protects its Intellectual Property worldwide and will use all available legal options to remedy any misappropriation."
The case caught the attention of the mainstream news late last week. Here's the relevant legal paperwork and background to this saga.
The tale begins
According to documents Micron filed against UMC in a US federal district court of northern California, the fight kicked off with Micron buying Japan's Elpida and its DRAM fab operations in August 2013. These included the Rexchip operation in Taiwan, chaired by Stephen (Zheng-Kun) Chen, which became the Micron Memory Taiwan company, with Chen remaining in the chair.
UMC is an OEM DRAM foundry business set up in 1980, with foundries in Taiwan, Singapore, and mainland China. It doesn't have its own DRAM expertise, building DRAM chips from designs supplied by its customers.
In 2015, the Chinese government publicized a Made in China 2025 plan, which aims to make China independent of key Western-owned manufacturing expertise, including computer technologies such as DRAM.
In July that year, China's Tsinghua Unigroup offered to buy Micron for $23bn, but Micron said no.
Jinhua
Fujian Jinhua Integrated Circuit Company (Jinhua) was started up by the Fujian provincial authority in China and other investors in 2015, to build a DRAM foundry in Fujian, with a $5.65bn investment.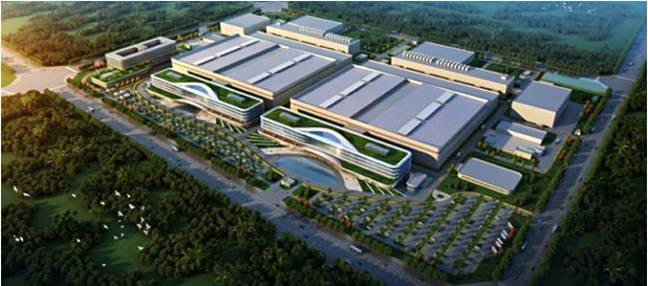 What a site ... The proposed Jinhua DRAM fab
According to Micron's filed documents, which include Taiwanese cops' criminal indictments against UMC staff, Stephen Chen left Micron Memory Taiwan (MMT) to join UMC as a senior veep in September 2015. MMT section chief, JT Ho, resigned from MMT in October, and joined UMC in November. His employment agreement with Micron barred him taking proprietary information with him.
Jinghua decided to partner with UMC to obtain needed DRAM technology, and the two agreed in January 2016 that UMC would develop 32nm DRAM and "32Snm" DRAM technologies for Jinhua, which would pay $300m for equipment purchase plus $400m for the development.
But UMC didn't have the information that was needed. It had to obtain it from elsewhere, somehow. Micron had an inkling where, alleging:
As a semiconductor foundry with no advanced DRAM process, UMC had no realistic capability to fulfill its commitments under their agreement. Jinhua knew that UMC did not possess the technological resources to develop the promised technology by itself, and understood that the technology would be based substantially on Micron's DRAM designs and processes.
So Micron called in the lawyers.
MMT recruitment blitz
UMC established the New Business Development ("NBD") at the Second Factory Area of its Fab 12A in Taiwan's Tainan Science Park, also in January 2016, with Stephen Chen in charge of it. He, according to Micron, set about recruiting MMT employees and getting hold of the necessary trade secrets about Micron technology from them.
MMT's manager of communication and talent strategy Sandy Kuo joined UMC in February 2016. Her Micron employment contract forbade her soliciting Micron staff to join a competitor for 12 months from her resignation. Despite this, Micron claimed, she helped UMC recruit MMT process manager S.Y. Chen later that year.
In April 2016, another MMT employee, product quality integration manager Kenny Wang, joined UMC, and – it is alleged – brought confidential Micron DRAM blueprints with him. Micron's document stated:
On the pretext that he would be joining his family's business, Wang submitted a resignation letter to MMT on April 5, 2016 and asked to have April 26, 2016 be his last day. As described below, during the weeks leading up to his last day, Wang worked diligently to steal a massive amount of Micron trade secrets for use at UMC. Two days later, on April 28, 2016, Wang formally joined UMC and was assigned to the PM2 division of the New Business Development Unit.
It went on to claim: "Originally UMC had no mask tape out team or ion-implantation specialists. After Kenny Wang provided the DR25nm design rules production parameters, PI2 skipped processes such as the optical lithography adjustment, etching and yellow light processes when developing the F32 DRAM.
"The design rules were completed within only two months and handed to the chip design manufacturer for the next step. Kenny Wang was promoted to Device Manager in January 2017 for excellent performance in reducing the time, costs, equipment and labor in producing the design rules."
July 2016 saw Jinghua break ground on its Fujian fab, while in October UMC and Jinghua run a recruitment fair in Silicon Valley for RAM chip experts. A presentation at the event used Micron DRAM technology code names, such as "F32" and "F32S", Micron claimed:
[These] are the exact internal code names of DRAM products developed and designed by Elpida (later acquired and owned by Micron), which had been in production at the Rexchip fab (now Micron's Fab 16) where Co-Conspirators Chen, Ho, and Wang all previously worked.
Taiwan investigations
The Taiwanese authorities were alerted, and Micron checked its internal IT records to find that Wang and Ho had copied confidential information about DRAM manufacturing to laptops, USB sticks, and even Google Drive, with Micron able to identify individual files, and their type, times and dates of access, it is alleged.
In early 2017, Wang's phone was tapped, we're told. The UMC offices were raided by the cops with search warrants on February 7 and again on the 14th, seizing documents, laptops, and smartphones, despite a UMC employee taking one of Wang's phones out of the building, it is claimed. The mobile was later recovered, and Wang confessed to leaking secret blueprints, according to Micron's documents. UMC staff also destroyed or hid incriminating materials, according to Micron.
The Taiwanese authorities indicted UMC, Ho, and Wang in August 2017, for allegedly conspiring to steal and misappropriate Micron trade secrets so as to deliver that information to Jinghua.
Micron goes to court
In December 2017, Micron fired off a civil complaint against UMC in northern California. It stated:
UMC is prepared to make hundreds of millions of dollars for its purported "development work," and Jinhua plans to avoid hundreds of millions of dollars in costs and the many months of R&D effort that honest competition would require.
And in January 2018, in what looked like a tit-for-tat move, Jinhua and UMC accused Micron of patent infringement in China relating to DDR4 technologies, solid-state drives, and memory chips used in graphics cards. Micron said: "The case is being heard by a court in Fujian Province. The Fujian provincial government is an investor in Jinhua."
Micron – based in Boise, Idaho, USA – also claimed: "On February 22, 2017... Shortly after Taiwanese prosecutors raided UMC's NBD facility, UMC promoted and transferred Chen to serve as President of Jinhua in Mainland China." It went on:
After UMC's indictment for trade secret theft became public, the biz announced that it was moving ahead full steam with Jinhua and that it was on track to complete the first stage of the project in 2018. Micron seeks civil redress to the full extent of applicable law (including) Exemplary and punitive damages, and treble damages.
Latest moves
The most recent Chinese move is its antitrust agency's May probe into alleged DRAM price-fixing by Micron, Samsung, and SK Hynix.
This example of alleged Chinese high-tech DRAM IT secrets theft may form a foundation on which US President Trump's import sanctions against China sit, and his actions to limit Chinese concerns to buy into US companies.
UMC tried to have the California case dismissed as all the alleged activity took place outside the USA, arguing the US court has no jurisdiction.
A spoeksman at UMC, Richard Yu sent us a statement:
"UMC denies allegations regarding the infringement of third-party IP, and we are confident that any investigation through litigation will ultimately support our position. Unfortunately, we cannot comment further on these two ongoing cases."
The status of Micron's lawsuit against UMC and Jinhua in California is that the UMC application to dismiss the lawsuit will be heard in September, and there will be a case management conference of the three parties involved before Judge the Honorable Maxine Chesney on Friday, October 12. ®
The case is 3:17-cv-06932-MMC Micron Technology, Inc. v. United Microelectronics Corporation et al.