Google is bringing its IT Support Professional Certificate program to more than two dozen US community colleges this fall in an effort to prime the sysadmin supply pump.
The Chocolate Factory introduced the online course in partnership with web educator Coursera in January. Since then, we're told, almost 40,000 people have enrolled and ad-enriched Google has ponied up to fund around 10,000 scholarships to benefit veterans, refugees and low-income learners.
Given that Coursera charges $49 per month and the certificate course is supposed to take eight months to complete, the total cost to students should be about $400 unless more time is required to finish the assignments.
That's rather more affordable than coding bootcamps, some of which demand $20,000 or thereabout for a three month session.
The difference may be explained in part by the median pay gap between developers and admins.
According to the US Bureau of Labor Statistics, the median annual wage for application developers was $103,560 in May 2017. For network support specialists, the median annual wage was $52,810 during the same period.
Nonetheless, BLS figures indicate that computer support specialists jobs are expected to grow 11 per cent in the decade from 2016 to 2026, a rate faster than overall job growth.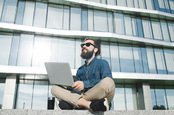 Summer breeze makes IT fine, blowing through sysadmins in my mind
READ MORE
"The field of IT is growing quickly, with many companies looking to hire strong IT talent – there are 150,000 openings for IT Support jobs open in the U.S. alone," said Ben Miller, senior systems administrator at Google in a blog post this week.
Miller says he began his IT career with an associate degree at Ozarks Technical Community College in Springfield, Missouri.
To make that path available at more than 25 community colleges in California, Illinois, Michigan, New York, Ohio, Texas and Wisconsin, Google's philanthropic arm, Google.org, will provide a grant to Jobs for the Future (JFF), a non-profit focused on workforce education and improvement.
JFF will help community colleges add the IT Support Professional Certificate program to their respective curricula. Google and its hiring consortium of about two dozen companies will then make some effort to help course grads land an IT job.
Google's funding follows from a 2017 commitment to dispense $1bn through Google.org over five years. ®