This article is more than 1 year old
Class-action status snub for lawsuit alleging Microsoft mistreatment of women workers
Redmond slips out of key provision in discrimination case
Updated Microsoft may not have to face a class-action complaint over its alleged mishandling of harassment and discrimination complaints by women employees.
Judge James Robart, in a US federal district court of western Washington, on Monday denied the class petition by a group of plaintiffs lead by engineers Katie Moussouris, Holly Muenchow, and Dana Piermarini.
The move will require the group to file their cases individually, a measure that will make it much harder for the plaintiffs to get a judgment against the $764bn software giant.
The trio had filed suit on behalf of all women who had worked for Microsoft in engineering and IT operations roles since September 16, 2012. The complaint had alleged that Microsoft discriminated against the women by using its "Calibration Process," an HR evaluation system that inherently favored male employees over their female peers.
"Microsoft's Calibration Process, which determines employees' pay, promotion, and performance outcomes, is both unreliable—in that its structural features preclude consistent decision-making between comparable people—and based on invalid criteria," the complaint [PDF] alleged.
"The Calibration Process operates within the context of a corporate culture that systematically devalues women's contributions."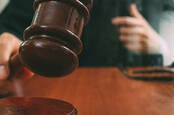 Judge on Microsoft gender discrimination case finds 'flaw' in class grouping argument
READ MORE
The complaint also alleges Microsoft mishandled approximately 238 complaints of harassment and discrimination. Among those was a former intern who claimed Microsoft bungled her sexual assault complaint against a coworker and forced her to work alongside her alleged assailant.
Moussouris, a much-respected security researcher who in her time with Microsoft founded the company's bug bounty program, indicated she and the other plaintiffs in the case plan to appeal this week's decision.
"Thanks to everyone reaching out – I'm doing great & our fight for pay equity is not over," she tweeted today. "I will not respond to any inquiries related to this, except this: Progress is never linear. 'The arc of the moral universe is long, but it bends towards justice.' - MLK"
Microsoft is not the only tech company to face allegations of discrimination. Intel has been hit with a similar complaint, while Google has managed to be sued by both women and men claiming gender discrimination. ®
Updated to add
Unsurprisingly Microsoft is rather happy with the decision. It sent The Reg this statement:
We remain committed to increasing diversity and making sure that Microsoft is a workplace where everyone has an equal opportunity to succeed. The judge made the right decision that the case should not be a class action.