Reality Winner, liberty loser: NSA leaker faces 63 months in the cooler
Renegade pantyhose smuggler admits slipping Russian election hacking dossier to hacks
Reality Winner – who leaked to the media a classified NSA file describing Russians fiddling with American election technology – has pled guilty to one count of espionage.
The former NSA contractor had earlier pleaded not guilty in a US federal district court in Georgia, and had hoped a jury would clear her of wrongdoing. Now, she faces up to 63 months behind bars.
Earlier today, Winner admitted in court to being the source of news reports of Kremlin hackers meddling with a maker of voting machine software used in the 2016 White House race. She will be sentenced at a hearing later this year.
"My daughter Reality has decided to change her plea. I believe that this plea is in Reality's best interest at this time," Winner's mother, Billie Winner Davis, said.
"Given the time and circumstances and the nature of the espionage charge I believe that this was the only way that she could receive a fair sentence. I still disagree strongly with the use of the espionage charge against citizens like Reality."
Billie noted that the espionage charge preventing her daughter from discussing details of the matter with a trial jury, a requirement that could make her defense more difficult.
Winner's change of plea hardly comes as a surprise given her previous admission to sneaking out, from her workplace, a printed classified government document stashed in her pantyhose, and mailing the dossier to reporters at the Intercept – who gave full scans of the file to the NSA when asking the agency for comment.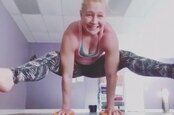 Angst in her pants: Alleged US govt leaker Reality Winner stashed docs in her pantyhose
READ MORE
Uncle Sam's investigators used a document ID number on the Intercept-provided copy to narrow down the source of the leak to six people who had computer access to and had printed off the NSA report. Winner confessed to sending a printout of the classified information to journalists when questioned by the FBI at her home in June last year.
Winner, then 25, was working for Pluribus International, an outsourcer that handled confidential material for Uncle Sam. She told the Feds she printed out the documents after being enraged by her daily exposure to Trump-backed entertainment channel Fox News on TV screens at work.
"I wasn't trying to be a Snowden or anything ... I guess it's just been hard at work because. And I've filed formal complaints about them having Fox News on, you know?" Winner told investigators.
"Just at least, for God's sake, put Al Jazeera on, or a slideshow with people's pets. I've tried everything to get that changed."
She also shared the classified document with reporters, as a whistleblower, in hope of bringing to public view NSA claims that Russian intelligence hacked at least one maker of voting software used in 2016's US elections.
Winner gained notoriety as the first person to be charged under President Donald Trump's administration with violating the Espionage Act, a 1917 law that criminalizes copying a "writing or note of anything connected with the national defense." ®