BlackBerry KEY2: Remember buttons? Boy, does this phone sure have them
Busy business device that puts you back in control
Review Imagine a consumer gadget where the designers didn't think buttons were an abomination to be removed with extreme prejudice, but something that attempted to make things convenient for users. Something to make a chore easier. Can you picture a kettle with an all-touch display, or living in a house where every light switch is a fondlepad?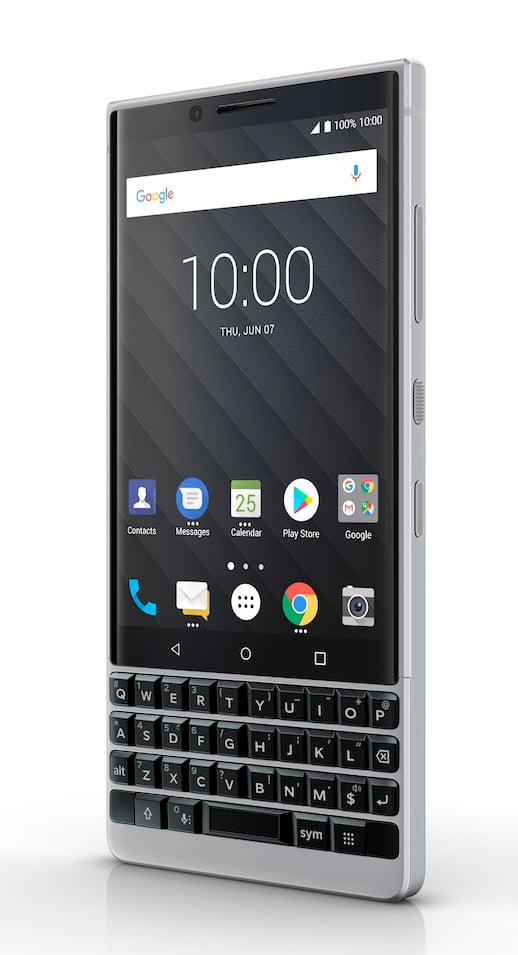 People love buttons, but as phone designers remove mechanical switches and even ports from their phones in pursuit of the "smooth pebble" look nobody has ever asked for, they've become an endangered species.
TCL's BlackBerry Mobile unit, which is the keeper of the flame now licensee BlackBerry Ltd focuses on enterprise software and security, begs to differ. The KEY2 is a button-maximised phone and if convenience and ease of access are what you want, the KEY2 fits the bill. There are so many ways of doing things with buttons on this phone I forgot one or two, and I'm very familiar with the product and its history.
In short, the KEY2 refines almost every aspect of last year's KEYone. It feels a lot lighter, while retaining the debutant's robust construction. It also retains its predecessor's battery pack, which should give many users two days of use. And thanks to a flagship-class dollop of RAM, 6GB, switching between applications is fast and stays fast. If you want to pick up something and dive into your alerts quickly, nothing on the market provides the convenience.
The sacrifice is that the 4.5-inch display, although pin sharp, isn't as comfortable as a full-touch device, even one with a bog-standard screen. And for this convenience you will pay a hefty £579, SIM-free. Before discussing whether it is worth it, let's see what's new here, and recap what isn't.
Design
The KEY2 has a sturdy aluminium frame with the now familiar grippy, rubberised coating on the rear. It retains a 3.5mm audio port – no gimmicks here – but moves all the buttons to the right-hand side. I'm not sure how lefties will respond, but I'm glad the Power key is no longer furthest from me. The Power key is strongly differentiated both in size and texture.
BlackBerry Mobile dispensed with the Passport-style "large forehead", with its distinctive grill, to make way for a larger QWERTY keyboard. This is the keyboard that the KEYone should have had, and after a week, I can't speak highly enough of it. It felt great on day one, and got even better after that. The keys are larger with better spacing, and have a lovely firm feedback. It's like putting on snow shoes. The ill-judged move to a glossy finish has been abandoned, and this, like the Passport, is a matte finish, and much better for it.
(For side-by-side comparisons of last year's KEYone and the KEY2, see our hands on here.)
Faster typing isn't the real point of a physical QWERTY, I'm probably faster on a vast iPhone Plus-sized model. The flaw in the design is that you're always conscious of accidentally nudging the navigation keys, particularly since they lurk like a castle moat between the physical keys and the auto-suggested words at the bottom of the display. But they do provide a great typing experience and I did find myself wanting to bash out more quick replies than before.
The phone offers a dedicated convenience key, a heritage of old BlackBerrys, and this has been refined a little so it can invoke one application or shortcut, or three, depending on context such as location. I stuck with one. The KEY2 now allows the currency symbol to double up as a shortcut key to perform various functions.
Now there's an entirely new key which doesn't do anything at all on its own, but combined with a letter zips you along to a preconfigured application. What's the point of this, you wonder, when the previous device could? Well, that short/long press+key combination only worked with BlackBerry's own launcher. BlackBerry Mobile found that a lot of people prefer their own launcher and, to its great credit, has obliged. You lose a dedicated Shift key, but you can restore the aforementioned currency key to that job.
All in all, that's a lot of buttons. Welcome to Buttonland.

The display appears to be the same but seems brighter to me in sunlight. It's a very sharp panel at 433ppi; older users might want to crank up the font size a notch, as I did. I'd like to have seen wireless charging included, but unless plastic is being used (as Nokia did with its Lumia phones), this tends to make the phone more brittle.
All this is in a package that's the same size but feels amazingly quite different – much lighter than the KEYone, although the weight difference is a mere 12g.
Software
BlackBerry Mobile sticks to the "almost-stock" experience, but includes a strong bundle of extras based around its Hub application and related PIM tools. For 2018 this is now augmented with some interesting extras.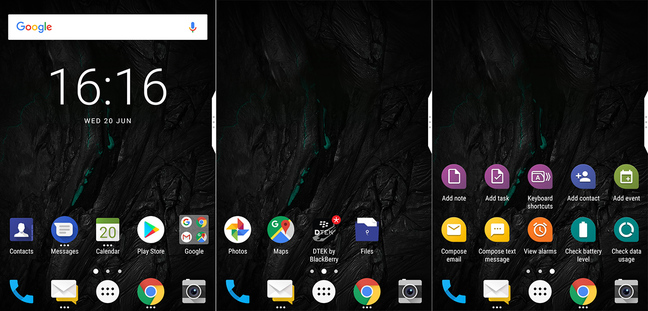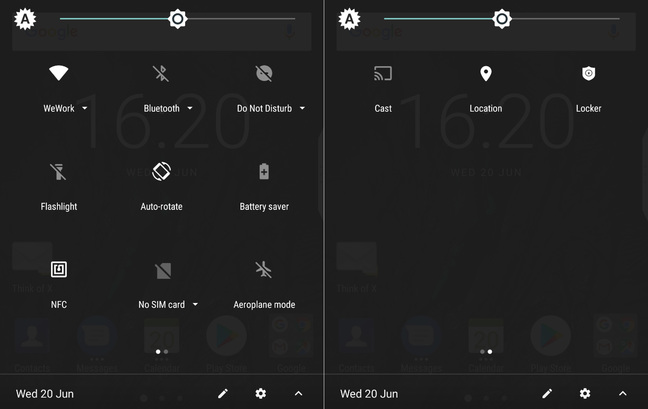 The Hub is primarily an email client, although it also serves as a Notification catcher. The idea is you have a timeline of activity, and you can then filter it by preset view. This made its debut in late 2015 in the Priv, the first BlackBerry Android, and progress has been fairly sedate so far. It's a rich but demanding application – if all you need is an Exchange client you should head for Nine – but I'd like to see more progress. Specifically, one thing I miss from BB10 devices is custom notification management, rather than default Notification clang that Android phones emit. For example, I have a view that will alert me to some private messages – why can't I have a custom LED and sound for that?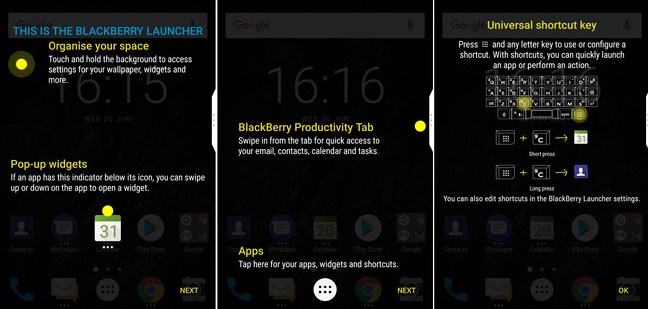 Onboarding screens describe some of the features – but there could be more
Then again, with the KEY2 I could pick up the phone, press the side button, and thanks to the convenience key, see what I'd missed with just a swipe. The button just makes this feel very different to an all-touch device.
BlackBerry includes Contacts, Calendar Tasks and two Notes apps – the newer one, Notify, is really for squirrelling away screenshots – and it's (still) the only Android app I know that acts as a first-class server for multiple Outlook.com calendars (most just serve up Outlook.com calendar data from the sole default calendar to other apps, if at all).
The DTEK app gives you alerts if an app is trying to access a class of permission and keeps track of when and where permission categories were accessed. Now with a better Dashboard-style interface, DTEK amasses a trove of data and makes it easily comprehensible. And BlackBerry continues to fill out some popular fan requests.
The Privacy Shade – a nice feature that makes only a narrow horizontal portion of the display visible so shoulder surfers can't lurk – now works with a new Redacting Tool, which allows you to obscure screenshots with opaque black shapes. They play nicely together.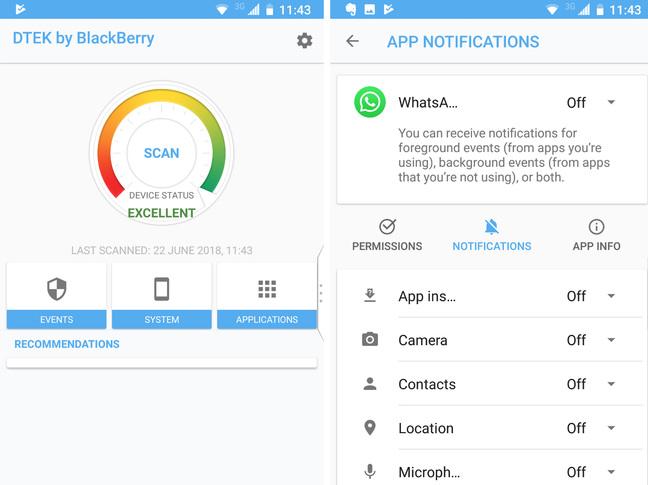 The DTEK privacy dashboard alerts you to which apps are sucking up your personal data. Google apps and services are not included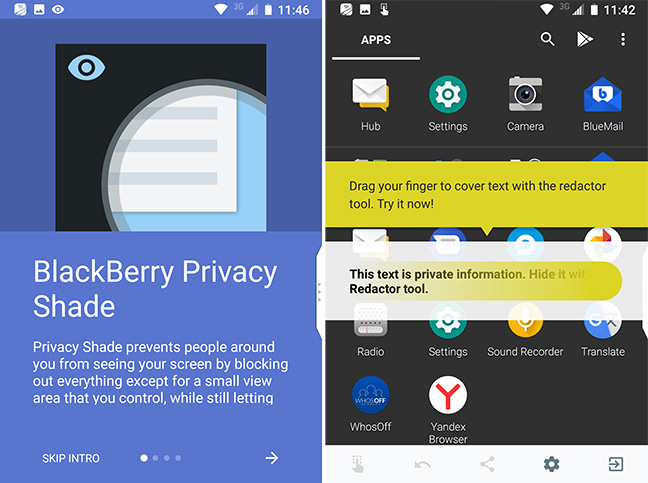 Privacy Shade and Redactor
The Locker feature we first saw on the BlackBerry Motion has been enhanced to include apps as well as data, and it's integrated with the camera. So you can take "private" shots and be confident that anyone picking up your phone unlocked won't be able to access them – they need additional authentication. I can't imagine why anyone would do this, honest. Do you have a use for private photos? On second thoughts, keep 'em to yourselves.
There's also a basic File Manager.