This article is more than 1 year old
Facebook quietly kills its Aquila autonomous internet drone program
Silicon Valley hubris project crashes down to Earth
Facebook has canned its plans to bring high-speed internet via a solar-powered drone beaming lasers to the ground, according to an announcement on Tuesday.
The social media behemoth hellbent on 'global connectivity' wanted to launch a "high altitude platform station (HAPS) system," nicknamed Aquila, into the stratosphere. Facebook envisaged hundreds of these electric-engines powered drones floating in the skies drawing energy from solar panels and firing laser-guided internet access to remote corners of the world so locals could get a daily diet of memes and messages.
But, after four years of trying to make the concept work, Facebook announced on Tuesday that the Aquila project had been killed off.
"We've decided not to design or build our own aircraft any longer, and to close our facility in Bridgwater," it said in a blog post.
"Going forward, we'll continue to work with partners like Airbus on HAPS connectivity generally, and on the other technologies needed to make this system work, like flight control computers and high-density batteries."
Aquila was designed to emit signals at 10 Gbit-per-second transfer rate to be picked up local, small towers and dishes and convert it into a Wi-fi or LTE network for people's homes and mobile phones.
A team in Bridgwater, United Kingdom, led the design of an autonomous drone with a wingspan of 42 metres across with four solar-powered propeller engines – making it wider than a Boeing 737's wingspan.
Engineers completed its first test flight in June 2016. It didn't go particularly smoothly, and ended when a complication with its right wing led to a crash as it was landing. The autopilot software struggled to cope with the turbulent flight conditions, but Facebook pointed out that a drone did manage a successful landing after a while.
"We've made important progress on some of the other key parts of the system — including setting new records using millimeter-wave technology (MMW) in air-to-ground and point-to-point communication. And then we more than doubled our MMW record with 40 Gbps connectivity simultaneously in both directions from a ground location to a circling Cessna aircraft over 7 kilometers away," Facebook said.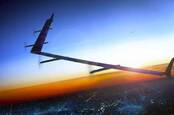 LOOK OUT, Brits – is that a Facebook LASER-GUN drone above us?
READ MORE
But despite these improvements, it still has decided to terminate the project. It said that it would instead be partnering with proper aerospace companies like Airbus on future projects.
Facebook's announcement came hours after it was reported that Andrew Cox, head of Aquila project, and Martin Gomez, Facebook's director of aeronautical platforms, had both quit earlier this year. Records kept by the Federal Aviation Administration also show that Facebook did not renew the registration for one of its Aquila drones since the other was damaged during the crash.
All eyes are now on Google and and its Loon plans, which will see internet-streaming balloons floating around on wind one of these days. Many suspect that Loon will also join the list of projects that seemed like a good idea at the time but really weren't. ®