Not OK Google: Massive outage turns smart home kit utterly dumb
Desperate punters forced to twiddle their knobs manually for hours worldwide
Updated Google's entire Home infrastructure has suffered a serious outage, with millions of customers on Wednesday morning complaining that their smart devices have stopped working.
At the time of writing, the cloud-connected gadgets are still hosed, the service is still down, and the system appears to have been knackered for at least the past 10 hours. The clobbered gizmos can't respond to voice commands, can't control other stuff in your home, and so on.
Chromecasts can't stream video, and Home speakers respond to commands with: "Sorry, something went wrong. Try again in a few seconds."
Users in Google's home state of California started complaining that their Google Home, Mini, and Chromecast devices were not working properly around midnight Pacific Time on Tuesday, and the issue cropped up in every country in which the Google Home devices are sold.
But it was only when the United States started waking up on Wednesday morning – the US has the vast majority of Google Home devices – that the reports started flooding in, pointing to an outage of the entire system.
Google has confirmed the devices are knackered, but has so far provided no other information, saying only that it is investigating the issue.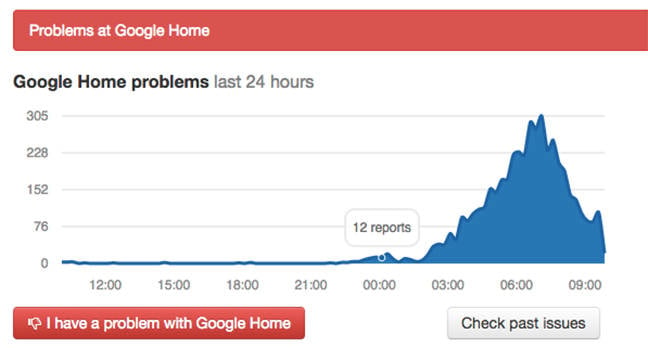 A graph showing two things: an outage and a concentration of devices in the US ... Source: Downdetector.com
It is possible that the outage is related to a similar, unusual outage at Slack earlier today. So far, though, the most likely cause is a software update Google pushed out around the same time as the first complaints rolled in, an update that added the Spanish language to its devices.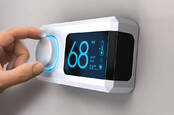 Are your IoT gizmos, music boxes, smart home kit vulnerable to DNS rebinding attacks? Here's how to check
READ MORE
Netizens have been reporting that even after a reboot the devices don't work, suggesting either the entire Home infrastructure has fallen over – which seems incredibly unlikely given that fact that it is Google we're talking about and it has massive worldwide network redundancy to fall back on – or the devices themselves have gone awry following an update.
We will update this article as and when Google provides any more information. In the meantime everyone is just going to have to shelve their voice-controlled Google assistants – and find out the time by looking at their watch, or check their calendar on their phone or laptop, or turn up the thermostat using the ancient but reliable technology known as fingers. ®
Updated to add
Google has issued the following statement:
We're aware of an issue affecting some Google Home and Chromecast users. Some users are back online and we are working on a broader fix for all affected users. We will continue to keep our customers updated.
The web giant then followed up with more details – try rebooting to pick up a software fix, or wait up to six hours to get the update:
We've identified a fix for the issue impacting Google Home and Chromecast users and it will be automatically rolled out over the next 6 hours. If you would like an immediate fix please follow the directions to reboot your device. If you're still experiencing an issue after rebooting, contact us at Google Home Support. We are really sorry for the inconvenience and are taking steps to prevent this issue from happening in the future.