Top banker batters Bitcoin for sucky scalability, security
Australia's Reserve Bank sees no need for national cryptocurrencies, for now
---
The head of payments policy at Australia's Reserve Bank – the equivalent of the Federal Reserve or the Bank of England - has asserted that cryptocurrencies' strengths are also their weakness and suggested central banks won't need to create their own equivalents any time soon.
The Bank's Tony Richards outlined those arguments in a speech delivered yesterday to the industry group Australian Business Economists.
In the speech he compared bitcoin's scale to that of commercial transaction processing outfits, noting that at the peak of bitcoin mania the collective efforts of users clocked up 4.5 transactions per second – but the infrastructure credit card provider Visa operates is scoped to handle 65,000 per second. Worse still, bitcoin's 4.5-a-second rate left 100,000 transactions in a queue.
"This episode points to the scalability and governance problems of the bitcoin system," Richards said. "Part of the attraction of bitcoin for its proponents is that there is no central governing authority. Instead, changes to the bitcoin protocol require a consensus among participants in the network."
But without central governance capable of advancing the bitcoin protocol to bust bottlenecks, he expressed doubt that the cryptocurrency can satisfy mainstream users.
"For example, while authorisation of a debit or credit card transaction is close to immediate, bitcoin users are typically advised to wait for the creation of about six additional blocks (i.e., about 60 minutes) before relying on their transactions being final," he added.
Like many observers around the world, Richards criticised bitcoin but sees a role for blockchains in scenarios such as "correspondent banking, international transfers, cross-border trade finance and post-trade activity in the equity market" as they have been shown to be inefficient and blockchain has obvious potential to shake things up.
"However, I think the evidence to date is that trustless blockchain solutions are unlikely to be adopted," he said. "Rather, the new systems are more likely to be permissioned shared ledgers, where a central body still plays a dominant role."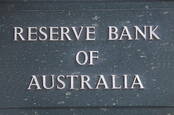 Australian central bank says 'speculative mania' and crime fuel Bitcoin
READ MORE
One reason for central authorities to stick around, he said, is that "there have also been many hacks of cryptocurrency exchanges and wallets over the past few years. That shows there is also a lot more risk in bitcoin intermediaries than there is in the supervised banks and financial institutions in which households can hold their Australian dollars."
And for now at least, Richards doesn't think the Reserve Bank should create a blockchain-tied version of the Australian Dollar. Even though he agreed, broadly, that "another form of central bank settlement instrument could reduce risk and increase efficiency in business transactions", he said that "We will also need to think about whether the possible use-cases that have been proposed really need central bank money on a blockchain, or if they might also be possible using other real-time payment rails". One candidate for that role is Australia's New Payments Platform, which offers real-time transfers between bank accounts, replacing next-business day transfers, already has the support of the nation's financial institutions and can be accessed by anyone with a bank account ... without the need for any knowledge of crypto-anything. ®