A New Zealand gamer who flew halfway around the world to confront a 14-year-old girl he met online got more than he bargained for when her mom shot him, according to police.
Troy George Skinner, 25, flew from his home in Auckland to Sydney, Australia, took a connecting flight to Los Angeles, USA, then from Los Angeles to Washington DC, and finally caught a bus from DC to Goochland County, Virginia, in order to reach the unnamed girl he had been interacting with online for several months, cops said this week.
Although that might sound vaguely romantic, the truth was much darker, it is claimed: she had told him over a gaming chat app called, appropriately enough, Discord, that she no longer wanted to talk to him, sparking his trans-Pacific passage.
And when he arrived at her house on June 22, he was carrying a knife, pepper spray, and some duct tape he had bought at a nearby Walmart, it is alleged.
Dressed in a black hoodie, he rang the doorbell and told the girl's mother, who was at home with both her teenage daughters, that he needed help and had been hitchhiking for 30 miles, we're told.
Second Amendment showdown
She refused to answer the door, prompting him to try to break into a basement door at the back of the house, it is claimed. At which point the mother – who had no idea of her daughter's online interactions – warned him she had a gun.
Clearly not aware that when a threatened Virginian mom says she has a gun, it's pretty likely she has a gun and is willing to use it, the six-foot-one, 275lb Skinner returned to the front door, threw a stone through the window, and stuck his hand through the hole in an effort to unlock it, it is alleged.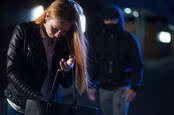 'Housemate from hell' catches 24 new charges after alleged nightmare cyberstalking spree
READ MORE
At which point, the mother fired twice at him, striking him once in the neck. Skinner attempted to run away, but collapsed in a neighbor's front yard – which is where the cops said they found him shortly after, and medivaced him to a nearby hospital.
"This was not random," said Goochland County Sheriff James Agnew at a press conference on Tuesday. "This was not random, not spontaneous. This was something very planned," adding: "It's a new world."
Skinner is expected to survive, and will be charged with breaking and entering with a deadly weapon with the intent to commit a serious offense. Federal charges are under consideration.
All of which is pretty terrifying and should serve to reinforce the advice given to teenagers when interacting online: don't tell people your full name, and don't tell them where you live. ®