Jimmy Hill feted in Shoreditch
A collaborator worthy of London's finest entrepreneurs. Wait, what?
---
Muralwatch Keen fans of Crap Murals were seen heading to Shoreditch this morning, as a new artwork celebrating "two of history's greatest minds" was unveiled.
"The enormous 200 square foot mural (that took 52 cans of spray paint to paint) has been created to pay homage to two of history's greatest minds, and to get people thinking 'what if they collaborated?' in celebration of the opening of Mindspace, the global co-working operator, in Shoreditch," the PR company for the sponsor proclaimed.
Two problems were immediately apparent. One half of the mural depicts "national treasure" (in their words) David Attenborough. While the other celebrates the late Jimmy Hill, football legend.
What would happen if Jimmy Hill and David Attenborough collaborated, we were musing, perhaps even speculating that they actually had. Football on ice, played by penguins. The innovative use of a mountain gorilla to adjudicate on VAR decisions.
That's until the error was pointed out. In fact, Attenborough's mural companion turns out to be the "tech magnate" (in their words) Elon Musk.
Have a squint, and see if you can see the resemblance. Or is it Ben Affleck, or perhaps even Bruce Forsyth?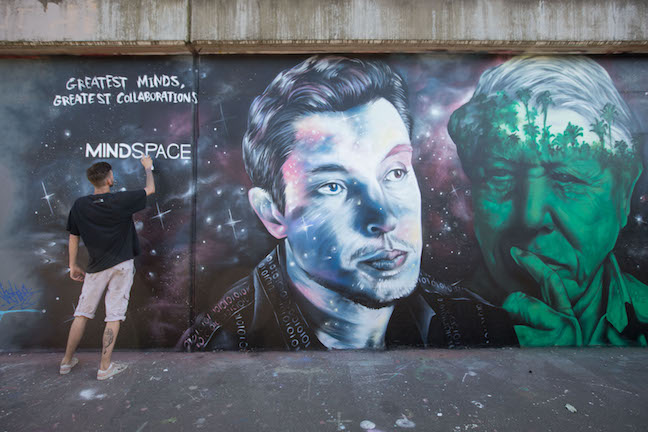 And the perpetrators.
But rather than quibble over the artisitic qualities of the spraycan artist, we'd like to offer you two inspirational figures to inspire today's young nontrepreneurs. Instead of Jimmy Hill or David Attenborough, who would you like to see commemorated instead?
Bear in mind this is an "imaginatively designed, flexible coworking environment" that's already "brimming with some of London's most influential startups, enterprise teams, and entrepreneurs".
We've narrowed it down to four.
Just imagine if you could get that lot in a room at the same time, collaborating! Alas, you can only choose one. But as with the best Reg polls, you can vote as many times as you like.
And do send us your Crap Murals. We can't get enough. ®