This article is more than 1 year old
Azure storage adds static HTML website hosting
Seven years after AWS S3, but just in time for serverless
Microsoft's Azure Storage service has added an option to host static websites comprised of not much more than HTML, JavaScript and other client-side goodies.
AWS has had this since February 2011. The new Azure service is also very similar to AWS' effort: both ask you to pop some files in the cloud, tell the bucket they're in it holds HTML, derive a resolvable URL and start serving a web page.
"So what?" you could well ask: there's a zillion other ways to build a basic website!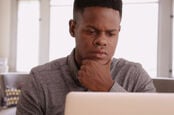 Serverless: Should we be scared? Maybe. Is it a silly name? Possibly
READ MORE
The reason for Azure adding this service is to create a serverless Azure hosting option and therefore to offer a new way to build serverless web apps. That's possible because the new service plays nice with Azure Functions, Microsoft's serverless offering. Static sites hosted in Azure Storage can call Functions, giving you the chance for a rich-ish web site that needs no server at all.
The new service is currently a preview and is free, but you will pay the same storage charges as for any other use of Azure Storage. Just watch those data transfer costs: as Microsoft's own advice on serverless sites warns, "Using a separate storage account for some or all of the static content allows the costs to be more easily separated from hosting and runtime costs." ®