This article is more than 1 year old
Western Digital pitches fleet of hybrid arrays to markets served by its array-builder customers
OK, that's an interesting strategy
+Comment Western Digital has pushed out JBOD, primary and secondary object arrays, putting it into direct competition with its storage array supplier customers.
These products, of course, use Western Digital's own disk and SSD media.
The Ultrastar Serv60+8 is a softwareless, 10GbE-networked, hybrid 4U enclosure with two Xeon controllers, 60 x 3.5-inch disk drive bays and 8 x 2.5-inch SSD bays. It can hold up to 780TB of capacity with 12TB helium-filled disk drives, passing 900TB once 14TB disks and 7.68TB SSDs become available.
Up to 24 of the disk drive bays can be filled with 2.5-inch SAS or SATA SSDs to provide a faster-access storage tier.
The eight dedicated SSD bays can hold NVMe, SAS or SATA SSDs.
Western Digital said the box has anti-vibration measures using baseboard suspension to protect the disks, and centre-chassis cool air flow for more consistent temperatures.
Intended customers are large enterprise customers, OEMs, cloud service providers and resellers/integrators.
ActiveScale object storage
Two secondary or archive disk storage arrays – the ActiveScale P100 and X100 – both run the v5 ActiveScale OS, which is based on the HGST-acquired Amplidata object storage from March 2015.
Both systems can also spread from one to three sites and offer up to 19 nines (99.99999999999999999 per cent) of data durability with an S3-compatible interface.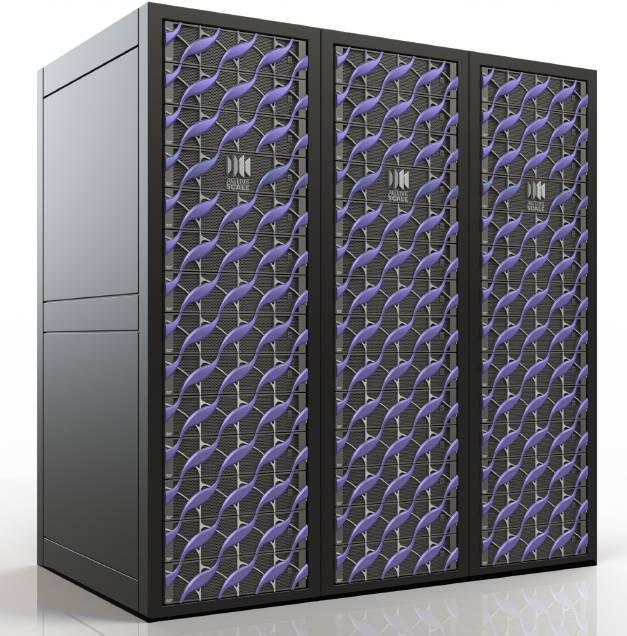 ActiveScale racks
The modular P100, using 72-bay enclosures for its disks, scales past 2PB in one site and to more than 2.3PB with three sites. The X100 is an altogether bigger beast, using 84-bay enclosures, and scaling up to 7PB in one rack and past 63PB with nine racks.
Both 10TB and 12TB disks are available and there is pay-as-you-grow utility-based pricing for both the P100 and X100.
The P100 is positioned for customers needing a sub-petabyte footprint at first and then growth up to a 5.4PB level. The X100 is integrated for petabyte scale and growth up to 63PB raw capacity.
ActiveScale OS v5.3 gets file and object access, replication to the cloud, support for Docker and microservices, and 12TB drive support.
The ActiveScale hardware is seriously big object storage iron and is going up against products from IBM, Hitachi Vantara, Scality (with partner hardware such as HPE), Dell EMC (ECS) and NetApp (StorageGRID).
A recent IDC object storage marketscape positions Western Digital just inside the major players area, along with Cohesity, Cloudian, Red Hat, SUSE and SwiftStack.
That's a lot of competition in a market moving to have object storage integrated with public cloud object and on-premises file storage inside a data management environment.
IntelliFlash primary storage arrays
These arrays are based on acquired Tegile technology from August 2017 and offer unified block and file storage on flash and hybrid flash/disk hardware. They now get NVMe drive support, but not NVMe over Fabrics.
There are two NVMe drive-supporting product classes – the N5200 (2 x 2-socket 16 core CPUs) and N5800 (2 x 2-socket 20-core CPUs), each with three models.
The N5200 and N5800 are all-NVMe arrays with the others being combined NVMe/SAS SSD configurations.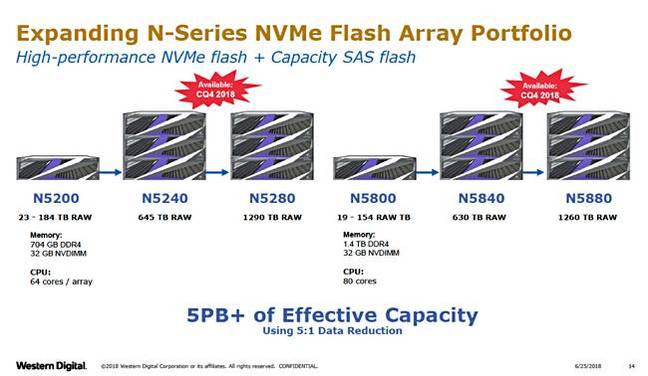 IntelliFlash NVMe drive models (click to enlarge)
Western Digital also has an IntelliFlash HD2000 series of high-density flash arrays, T4000 all-flash and hybrid flash/disk arrays. It's quite a complicated product family.
The NVMe drive-supporting arrays are competing with a strong line-up of established competitors – Dell EMC (PowerMax, Unity, XtremIO), Hitachi, HPE (3PAR and Nimble), Huawei, IBM (FlashSystem), Kaminario, Pure Storage, plus newer NVMe-over Fabrics (NVMe-oF) suppliers such as Aperion, E8, Excelero, Pavilion and Vexata.
By and large they all have dedupe and compression, file and block access, cloud monitoring and prediction, snapshots, replication, encryption and so forth. And the established vendors are all implementing plans to add NVMe-oF access to get access latencies down into the same sub-millisecond area as the startups.
Western Digital is included with the Others category in IDC all-flash array market share rankings, along with Kaminario, which has a 7.5 per cent share of the market.
In other words it has a mountain to climb here, and is only in the foothills.
+Comment
There's no question that Western Digital has a broad disk array product range, but it does not appear be a market leader in any category nor a major player.
In a world where software-defined storage plays a large role, it is a hardware-only or integrated hardware/software array supplier.
And as a vertically integrated storage array supplier, we would suggest it needs to demonstrate clear hardware market leadership so that its platform is a better base for its storage software than any competing suppliers.
We'll have to see if it can overcome channel conflicts with its existing array-building customers. ®