This article is more than 1 year old
Ding dong! Dell about to go public again – report
By swallowing VMware tracking stock, but seemingly not VMware itself
Dell is about to reveal a plan to go public again, according to people familiar with the matter who spoke to The Wall Street Journal.
The paper reported that Dell intends to swap shares in itself (which are held privately) with the "tracking stock" it created when buying EMC.
The tracking stock was created to do two things: give EMC shareholders a way to reflect the 80 per cent that the company held in VMWare, and; reduce the amount of money Dell needed to borrow to acquire EMC by giving the latter company's shareholders something else of value. The tracking stock is public, so if Dell buys them all it will effectively re-list itself.
That tracking stock has done its jobs. Dell was able to acquire EMC and the stock has risen from US43.50 in August 2016 to $85.27 last week – pretty nice growth in under two years!
The Journal says Dell's going to buy 'em back at a premium and give owners some cash too. But the paper warns the deal could yet fall over.
The Register can imagine why for a couple of reasons.
Firstly, Dell the company and Michael Dell himself spent lots of time saying that it was fabulous not being a public company because it allowed longer-term thinking that customers liked. Explaining what's changed since going private in October 2013 will require some fancy footwork.
Two things that have changed are rules on deductibility of interest payments and the increase in interest US rates, both of which make it more challenging for Dell to service the tens of billions it borrowed to acquire EMC. That could make the real answer to the question of a return to public ownership "because it will get the companies that funded the EMC buy off our back and make us more sustainable". Which would be grand for Dell customers and shareholders, even if emperor Mike would have quite a job explaining why it's great to be public again,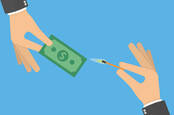 'Dead weight' Dell would destroy VMware's value, says big investor
READ MORE
The deal could also struggle because investors feel the tracking stock has more upside than Dell's offer. The tracking stock reflects VMware's fortunes and the company is growing like a weed.
The Journal's report doesn't spell out VMware's fate, but the structure of the transaction it outlines appears to have the potential to leave the company as it is now: a majority-owned limb of Dell. Which is a good place for VMware to be, because with plausible independence it can still satisfy customers it's not just a layer in a Dell stack and give Dell the benefit of a fast-growing subsidiary.
Reg operatives on three continents will keep an eye on events as they unfurl and bring you the news when – or if – it breaks. ®