ZTE remakes board as demanded by USA
Some new directors have ties to Chinese elite, government
---
Chinese telecommunications equipment vendor ZTE last week complied with US President Donald Trump's demand that it appoint a new board.
The new board was one of the president's demands before the trade ban imposed by the US is lifted. The previous 14 board members have stepped down, and been replaced by a slimmed down eight-member board.
Nikkei noted that the new board includes three members with a legal background, one member from Hong Kong, and two women.
The appointments, announced in a regulatory filing last week, include Li Zixue as chairman; two executive directors (Li Zixue and Gu Junying); three non-executive directors (Li Buqing, Zhu Weimin, and Fang Rong); and three independent non-executive directors (Cai Manli, Yuming Bao, and Gordon Ng).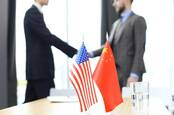 Chinese tech giant ZTE is back in business – plus or minus $1.4bn and its entire board
READ MORE
Ms Cai Manli has also been appointed convenor of the company's audit committee and remuneration committee, while Gordon Ng will is convenor of the company's nomination committee.
Bao Yuming will be known to some in the tech industry, with Nikkei saying he has acted as an advisor to Cisco because he's licensed to act in the USA.
Five of the new appointees were either internal promotions, or were associated with ZTE shareholders "owned by China's Communist Party".
Chairman Li Zixue is deputy director of the Xi'an Microelectronics Technology Institute, a research unit of the China Aerospace and Technology Corporation, which supplies the country's defence and space sectors and, according to Bloomberg, was ZTE's earliest investor.
ZTE was originally blacklisted by America for breaching sanctions against trading with Iran and North Korea. As well as stopping ZTE products entering America, the ban shuttered its assembly lines, because it was unable to purchase components from US component vendors such as Qualcomm.
President Trump hoped reversing the ban would give him leverage with China's president Xi Jinping in the two countries' trade dispute. That hasn't worked, and the two countries are in a tit-for-tat tariff war in which the White House imposed US$50 billion worth of tariffs on Chinese goods, and China has imposed retaliatory tariffs on $35 billion worth of US goods.
In mid-June the US Senate voted to reinstate the ZTE ban, but that requires confirmation in the House.
ZTE hopes that its compliance will suffice to mollify America, when Washington makes its next move. ®
Similar topics
Narrower topics