This article is more than 1 year old
Thanks for the happy memories, Micron – now beat it, says China: Court bans chip sales
Stock in US biz plunges as patent spat gets very serious
The ongoing war between US-based memory maker Micron and Asian DRAM manufacturers went nuclear today.
The Fuzhou Intermediate People's Court, based in southeast China, has, we're told, blocked the sale of a huge volume of Micron kit in the Middle Kingdom amid an ongoing patent row. That ruling, we understand, would stop Chinese manufacturers from acquiring Micron memory components for all the stuff their factories churn out.
In January, Taiwan-based chip biz UMC went to the Chinese courts to claim Micron products infringe three of its patents covering DDR4, solid-state hard drives (SSD), and graphics card memory.
In its complaint, UMC demanded an end to Micron "manufacturing, processing, importing, [and] selling" its wares in China, and also "destroy all inventory and related molds and tools and demand that Micron compensate the company for a total amount of RMB 270 million [$40.7m] in damages."
Now that court has issued a preliminary injunction against Idaho-based Micron, according to UMC, halting the sale of 26 of its products, including NAND chips, SSDs, and memory sticks.
"UMC is pleased with today's decision," said the organization's co-president Jason Wang in a canned statement. "UMC invests heavily in its intellectual property, and aggressively pursues any company that infringes UMC's patents."
As word of the decision broke, stock markets panicked, and Micron's share price dropped more than six per cent. Micron told El Reg it has yet to see the court's paperwork, adding:
Micron has not been served with the preliminary injunction referred to in the statements issued by United Microelectronics Corporation (UMC) and Fujian Jinhua Integrated Circuit Co. (Jinhua) dated July 3. Micron will not be commenting further until the company has received and reviewed documentation from the Fuzhou Intermediate People's Court of China.
Coming on the back of US Independence Day tomorrow, this could drag on a bit.
Patents or trade war?
It's fair to say Micron and UMC aren't best buddies at the moment, due to their ongoing row over alleged patent infringement, poaching of staff, and intellectual property theft amid China's push to rid itself of the need for American chip technology.
The US semiconductor shop claimed in a lawsuit in America that UMC hooked up with a mainland Chinese DRAM upstart called Fujian Jinhua Integrated Circuit Company and hired away Micron staff to run it. Some of these people are alleged to have smuggled out secret Micron blueprints to kickstart the three-year-old Fujian fab.
UMC, Taiwan's oldest semiconductor assembly line, has been expanding operations in China, and has just announced plans to launch a Middle Kingdom venture on the Shanghai Stock Exchange.
To add to the kerfuffle, the Chinese government has launched a price-fixing investigation into Micron, and South Korean shops Samsung and SK Hynix. Skirmishes over patents and prices are nothing new in the world of electronic component manufacturing, but some are worried this case is a proxy war in a larger conflict.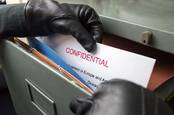 Taiwanese tech upstarts stole our RAM secrets and staff, claims Micron
READ MORE
As we saw with the case of the world's largest mobe manufacturer ZTE in May, a single embargo can cripple a company, and Micron does a huge amount of business in China. Micron's stock price revaluation is going to send shockwaves through the semiconductor industry in the same way. It stands now at $50.69 apiece after opening at $54.55.
These are ostensibly intellectual property kerfuffles, however, they come against a background of a growing trade war between the US and China – and much of the rest of the world. With the political rhetoric ramping up on both sides, one wonders how many other companies are going to get caught up in the grinder. ®