Analysis Why has Dell Technologies gone public again? In an interview with CNBC, CEO and chairman Michael Dell's answer was "Well uh look I think aaahhh … it was the best option to simplify the capital structure."
Yes, I know I'm being unfair here. My own appearances on live television have not been glorious and everyone uses audible pauses all the time.
But the pause from Dell, the man, and the mention of capital structure were both important.
The pause's significance was important because this is not a transaction with immediately apparent benefits. Dell Technologies is doing very nicely under its current structure. Dell, the man, was asked on CNBC if the company could continue on its current growth trajectory as a private company and answered "You are correct".
In the same interview Dell, the man, was asked why it's worth going public if better capital structure is the only discernible outcome. His answer started with "It's a bit too complicated" to explain.
Dell CEO Michael Dell on the decision to go public from CNBC.
But across the CNBC interview and a conference call staged for investors, Dell Technologies revealed it wants to dominate data – the making, gathering, transporting, connecting, viewing, storing and analysis of it, wherever any or all of that happens.
Michael Dell thinks Dell Technologies is already a fair way down the road to achieving this ambition, as he proudly stated that since acquiring EMC the company now leads markets such as servers, PCs to storage arrays, plus plenty of others. He thinks that position and the company's portfolio are poised to catch the wave of data the 5G/IoT world will bring.
How does capital structure matter there?
In the conference call for investors (transcript here [PDF]), Dell technologies CFO Tom Sweet said "The transaction also enables strategic and financial flexibility for future initiatives." Which sounds like a plan to make sure Dell Technologies can do whatever it takes to fund future ventures, spin out or combine bits of itself, or use stock to acqui-merge with companies that will advance its mission.
And while Dell's portfolio is currently impressive, an obvious omission is software assets in data analysis.
Clouds? What clouds?
The conference call was light on rationale for going public and big on inducement for would-be investors, who were treated to slideware (PDF) and chat revealing that Dell now has more revenue that IBM, has paid down US$11bn of debt since buying EMC and now owes $37.8bn, but leads more than 20 enterprise IT markets and is increasingly doing mega-deals that span its member companies' combined portfolios.
Perhaps most interesting of all is that the company listed Big Blue, both HPs, Cisco, Lenovo and NetApp as competitors, but didn't mention either Microsoft or AWS as competitors.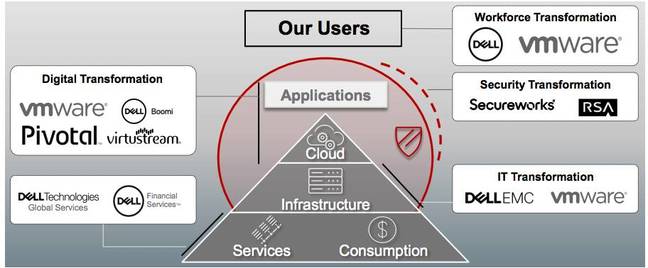 Dell's global domination plan, complete with Illuminati-style pyramid centrepiece. Click to enlarge
Dell Technologies' execs did mention the company's ability to supply clouds with hardware, help customers develop cloud-native applications, or wrangle clouds with VMware. But for now, the company has positioned itself as the world's biggest infrastructure company. Yet Michael Dell and other surely know that cloud will soon be where more and more workloads run. Serving that market with Pivotal and VMware will make for good business. Virtustream will be handy for giving legacy apps a cloudy veneer.
But we await news of how Dell will address the wider shift in the way computing gets done.
Dell Technologies has made much of the company being a "founder-led" concern, with the clear implication being that Michael Dell's entrepreneurial spirit will drive the company he founded beyond its current very strong position.
And if it does, well watch out. Dell Technologies' listed competitors have all either shrunk or had other troubles of late, often without being able to say much other than the "Well uh look I think aaahhh" with which Michael Dell started his answers today.
But don't expect Michael Dell to have much better answers than that for a while, because going public is clearly about making sure Dell Technologies can make up some answers as it goes along.
Which might be wearying for investors and customers who've already endured going private in 2013, acquiring EMC in 2016 and now this re-org. But at least Michael Dell's set the expectation that further gyrations are coming. ®
Similar topics