HPE has added Cisco 32gig Fibre Channel gear to its product range, making it ready for the bigger data access needs of NVMe over Fabrics.
The upgrade on its existing 16Gbit/s gear includes a 32Gbit/s Fibre Channel (FC) director module and 32gig switch.
The SN8500C director module is a 48-port, 32gig device that is actually a Cisco M9XT-FC1632 product.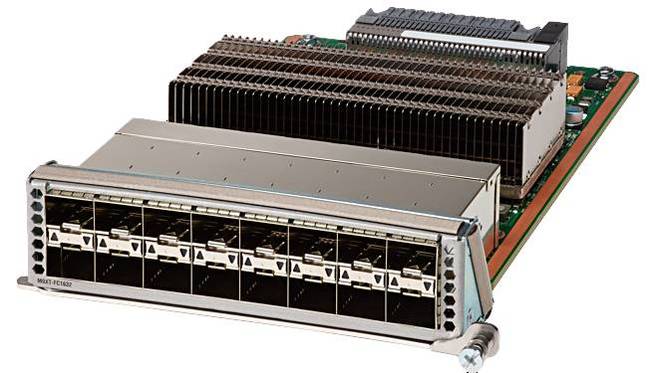 HPE SN8500C
The SN6610C 32Gbit/s FC switch has 8, 16, 24 or 32 ports and is suited for small-department SANs, Tor use or FC SAN extension. The base switch has 16 ports and there is a 16-port expansion module. Licensing starts at 8 ports.
HPE said the switch is for hooking up all-flash and NVMe storage, and it's FC-NVMe qualified. The box has integrated line-rate visibility on all ports for storage traffic analytics.

HPE SN6610C 32gig switch
This switch is actually an OEM'd Cisco MDS 9132T.
HPE introduced a 32Gbit/s SN6650B 128-port FC switch from Brocade in June.
Data centre storage networking speeds need to rise because more powerful servers run more data-hungry apps on the one hand, and faster all-flash arrays are moving from SATA and SAS SSDs to faster still NVMe drives and on to NVMe-oF access on the other.
HPE's Marty Lan, a GM in the storage connectivity area, said: "All-flash storage and NVMe provide a wide variety of benefits, but can also impose a considerable performance tax on infrastructure."
This simply means we need faster and fatter storage networking pipes, which the transition from 16Gbit/s FC to 32Gbit/s will provide.
HPE's StoreFabric C-Series storage networking portfolio is composed of switches and directors (centralised hub switches.) The SN6610C fits in alongside the 16Gbit/s SN6010C (12- ports) and SN6500C multi-service switch.
There are two directors; the SN8500C 4-slot (48-192 ports) and SN8500C 8-slot (48-384 ports) and the S8500C module is for them. It accompanies an existing 48-port 16gig module and a 48-port 10GbitE FCoE module.
These directors are said to be ready to accommodate 64Gbit/s FC when it arrives.
+Comment
The FC switches and directors may face an oncoming explosion in storage networking bandwidth needs with NVMe-oF. Servers are getting far more powerful than a few years ago, with multiple sockets, double-digit core counts, GPU-enhanced acceleration, and storage-class memory coming. Spreading containerisation could well make the data access demands of such servers rise by substantial amounts.
That could precipitate demand for even faster pipes; 64Gbit/s FC for example, and/or more ports. Could we perhaps envisage directors with 1,000 ports?
Assuming NVMe-oF arrives, will it be carried over Ethernet or Fibre Channel or InfiniBand?
Networking expert Greg Ferro of Packet Pushers told us: "It's going to be an NVMe over Ethernet or IP... I've done some work with a HPC system and they use Ethernet for everything. FC or IB is pointless, the costs don't work out."
His reasoning is twofold. First, the installed Fibre Channel SAN base in enterprises will move to FC-NVMe because that's an easy and simple first step to get more speed. But the economics of Ethernet, with its vastly greater scale and increasing use mean that the cost per device compared to equivalent FC or IB devices will reduce more and more, rendering FC and IB unviable.
Secondly, Fibre Channel has inherent scale limitations, with each switch on the network having to store Fibre Channel state and this, combined with FC's congestion control method, gives FC scaling limits, which Ethernet technology does not have.
Because of these two points, Ferro reckoned that FC-NVME will be a 32gig thing and that when speeds have to rise again to 64gig FC, customers and suppliers will move over to NVMe over Ethernet.
The SN6610C and SN8500C products are available now. ®