This article is more than 1 year old
Thrice, in a trice, IBM cloud cuts prices
Watson? Down! WebSphere? Down! VMs? Now charged by the minute!
IBM has cut the price of cloud services three times in a week.
It's far from unusual for clouds to cut prices: AWS and Azure often trade price cuts and say they're duty bound to pass them on as their economies of scale improve.
IBM, however, enjoys a lowly position on Gartner's most recent Magic Quadrant for infrastructure as a service. The analyst firm said the IBM Cloud could only offer a "disjointed experience:", and added both partners and customers had to accept an "uncertain roadmap".
We know that IBM's working on a new cloud. And it seems that while we wait some price cuts are in order.
WebSphere, IBM virtual servers, and Watson Discovery customers are the lucky beneficiaries of the cuts.
Watson Discovery: Standard Plan axed, Advanced Plan gets more options
Deepika Devarajan last week announced cheaper options for the Watson Discover cloudy AI engine.
The company has discontinued the "Standard Plan", replacing it with a more granular Advanced Plan price sheet.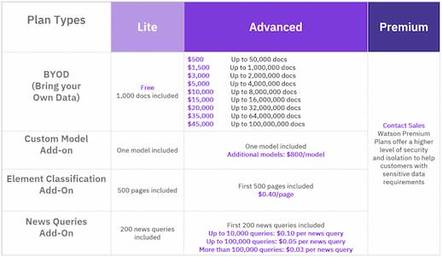 Watson's new prices. Click to enlarge
Lite users will be less pleased: IBM says to help keep Watson Discovery Lite free, their limits are being cut to 1,000 documents per month, and 200 news queries per month. The premium plan prices aren't public, but Devarajan wrote that they've been "significantly" lower.
WebSphere gets pre-paid option
Customers hosting WebSphere on an IBM public cloud, as Jeff Hamilton blogged, can now buy access using a pre-paid monthly subscription.
The target is "multi-tenant deployments in 8 VCORE 16GB increments with a minimum 6-month term", and the other options available are:'
Customers can mix WebSphere ND, Base, or Liberty;
WebSphere Base and Liberty "count less against your reserve contract", the post explained; and
Customers can expand capacity for a month on a per-hour, per-VCORE basis.
Put your VSI on hold, put the billing on hold as well
Late last week, IBM's Steve Harrington got the happy task of announcing revisions to prices for IBM Virtual Server Instances (VSIs).
The key details of the new offers are that billing is more granular (down to the minute), and customers can suspend billing when a VSI is suspended. The feature is currently in beta.
Suspending billing if an instance is suspended is aimed at customers who don't need their VSI all the time, but find it onerous to shut everything down, and then spin up a new instance when they need it.
In VSIs that support the suspend billing feature, if an instance is put on ice, the customer won't pay for CPU cores, RAM, port speed, OS licensing, and monitoring until they restart the instance (the post notes that "attached persistent storage, 100 GB primary volume upgrades, and secondary IPs will continue to incur charges").
Harrington wrote most instances should restart in between 30 seconds and two minutes.
The feature is in beta, so it's only available in the Dallas, Washington, France, London, and three south-east Asian data centre regions. ®