This article is more than 1 year old
Smash-hit game Fortnite is dangerous... for cheaters: Tools found laced with malware
Hurrah! Now we can have a security panic about a violent game instead of a moral panic!
Free third-person slaughter-fest Fortnite has attracted more than 100 million players – but many of them are falling foul to malware infections as they try to beat other players.
Since last week, game streaming shop Rainway noticed an increasing number of alarms popping up on its security logs, and was at first rather puzzled by this. The only common factor to all these was that they all came from people playing Fortnite and that they followed a similar pattern.
"These are attempts to call various ad platforms; the first thing we should note is Rainway does not have ads on it which was an immediate red flag," wrote CEO Andrew Sampson.
"The first URL, in particular, is JavaScript which is attempting to act and running into an error, triggering our logging. For security and privacy reasons we've always whitelisted URLs and the scope of what they can do from within Rainway – it seems now it has the unintended side effect of shining a light on a much broader issue."
By the time the number of user incidents had risen to over 381,000 so the staff decided to do some testing. They figured that people were trying to run cheat code for the game, and that these tools were causing the issues.
Way, way back in the day, cheating at computer games was easy. Game writers created codes that could make a game radically easier after typing in a few characters. These days there are a whole host of sneaky tools that can improve your aim, fire the instant someone is in our sights, or slow rival players.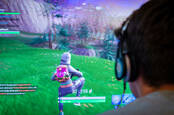 Want to know what all that Fortnite hype is about? Whoa, Android fans – mind how you go
READ MORE
The Rainway team downloaded all the Fortnite cheat tools they could find and ran some tests – and the results weren't good: every one of them had a malicious component.
The biz found the package that was causing the issue and it was a piece of software that was billing itself as both an aiming assistant and a way to harvest V-bucks, Fortnite' currency for in-game purchases. The cheatware also set up a man-in-the middle attack.
The app, now removed, had over 78,000 downloads and it may be hosted in multiple locations. Fornite's publisher Epic needs to harden up its platform, Sampson suggested, and educate its users about cheatware. ®