Boeing embraces Embraer to take off in regional jet market
100-seaters are now a duopoly, too, so please don't mention the trade war
Aerospace giant Boeing looks to have addressed a weakness that Airbus exposed last year, by proposing a joint venture with Brazilian plane-maker Embraer.
The deal's about regional jets, passenger planes with about 100 seats and ranges up to 5,000km. Neither Airbus nor Boeing make such planes – the former's A318 and the latter's 717 went out of production in the years 2013 and 2006 respectively.
That gap in the market was spotted by a Canadian concern named Bombardier, which offers its C series regional jets, and by Embraer.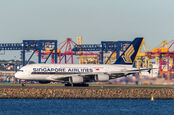 First A380 flown in anger to be broken up for parts
READ MORE
Boeing has long railed against Bombardier, arguing in trade tribunals that it's propped up by Canadian government subsidies. So when Airbus acquired Bombardier's planes in October 2017, Boeing went ballistic. The Trump administration tried to help out by threatening massive tariffs against Bombardier, but the United States' own International Trade Commission smacked those down.
Now Boeing has announced its intention to form a joint venture with Embraer, which happens to be the world's other source of regional jets.
The plan calls for Embraer's commercial planes to be tossed into the JV, of which Boeing will own 80 per cent.
Ironically, Embraer started life as a government-supported entity, just the thing Boeing objects to at Bombardier. That genesis means Brazil was loath to let the company fly away. The JV leaves therefore leaves Embraer's military activities untouched.
Boeing's billed the deal as good for Embraer because it will give the Brazilian company more sales and production scale than it could have achieved alone in the short-to-medium term, which should be good for the company's Brazilian operations. That muscle will also be put behind the KC-390, a jet-powered transport Embraer is currently developing.
Airlines probably won't like this deal, as it will mean less competition and higher plane prices.
But travellers may not mind, as regional jets let airlines fly routes that can't be flown profitably with larger aircraft. With both big plane-makers pushing regional jets, new routes become a possibility, as does jet-powered replacements for routes currently served by turboprops.
The deal's not done – at this stage it's a memorandum of understanding rather than signed, sealed and delivered. And trade lawyers are probably anticipating new briefs any moment now.
But even if the deal sails through, there's turbulence ahead: China's first regional jet is close to entering service and Japan's Mitsubishi is not far from test flights of its offering in this market. ®