No one wants new phones – it's chips that keep Samsung chugging
I'll keep the smartie I've got, thanks
A strong smartphone product range hasn't helped Samsung Electronics buck what is a saturated and exhausted phone market in the developed world.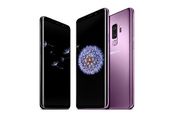 Samsung Galaxy S9: Still the Lord of All Droids
READ MORE
The conglomerate makes TVs, phones and components. But the latter is the tail that wags the dog.
The company issued guidance for its second 2018 quarter today, indicating lower consolidated sales than it had the same quarter a year ago – ₩58tr (around $52bn) vs last year's ₩61tr ($55bn)– but higher operating profits of ₩14.8tr ($13.3bn, £10bn), up 5.2 per cent from the ₩14.07tr ($12.6bn, £9.5bn) of Q2 2017.
However, its quarter-on-quarter operating profit is down 5.4 per cent from the record ₩15.6tr of Q1, the first decline in seven quarters.
"There's a lot to be said for not buggering up a winning formula," we wrote in April, but despite remaining the most attractive all-round Android package, the S9 is likely to be the worst-selling flagship since 2012.
Samsung has positioned its strong A-series just behind the S-series, and last year's Note didn't burst into flames. But none of that helped.
The profitability surge comes from healthy display and semiconductor sales, analysts think. DRAM prices are set to rise, which will help the Korean Chaebol considerably.
But in mature markets punters are holding on to phones longer, and while new handsets are packed with attention-grabbing features (like "AI cameras"), punters don't seem to consider them worth a price hike.
Smartphone sales are expected to fall by 7 per cent in Europe this year, and there's been a steep decline in sales of new phones in the UK, France and Germany already. ®