This article is more than 1 year old
Absolutely... fabless: Marvell swallows a large dose of Cavium
CPUs, HBAs making up for disk drive controller decline
Analysis Fabless semiconductor company Marvell has become 40 per cent bigger today by completing its $6bn Cavium gobble.
As is customary in such situations, Cavium CEO Syed Ali said the merger would "unlock significant opportunities", which you'd assume would include the "synergies" also mentioned in the press release.
The firms have already put a number on that: the transaction is expected to "generate at least $150m to $175m of annual run-rate synergies within 18 months". Some employees may be looking over their shoulders.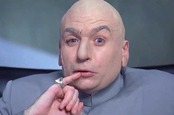 'Qualcomm, we will buy you... for... one HUNDRED... BILLION DOLLARS' – Broadcom
READ MORE
The deal is expected to continue a trend of lesser players attempting to bulk themselves up to compete with the silicon giants: namely Qualcomm and Intel.
The rationale for the buy was scale, but Marvell is understood to be experiencing a secular decline in disk drive controller sales as well. SSDs are taking over from HDDs for performance-led applications, such as PC/notebook boot drives and tier one storage array drives, leading to a decline in disk drive shipments.
With the acquisition, Marvell gets Arm CPUs for SoCs and servers plus storage host bus adapters (HBAs) from Cavium – both growth markets – and diversifies into a more general infrastructure semiconductor supplier.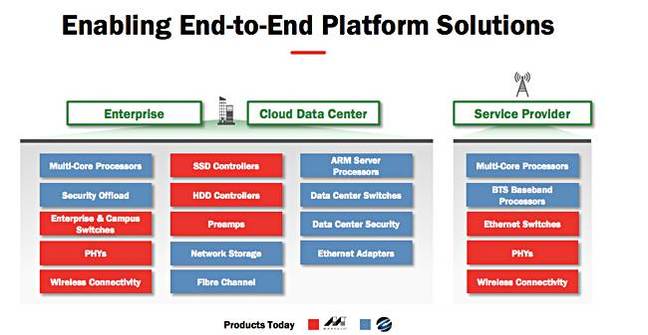 Marvell and Cavium product areas.
Marvell posted annual revenues of $2.1bn and operating income of $429,700 for the year ended 3 February 2018 (PDF), while Cavium presented calendar 2017 revenues of $98m and posted a $68.9m loss, up on its previous loss of $147.2m in 2016 but down on its $17m loss in 2015.
Dealing with Cavium losses will be a priority and that suggests eliminating loss-making products with few growth prospects.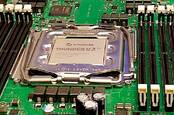 Broadcom's Arm server chip lives – as Cavium's two-socket ThunderX2
READ MORE
We can identify two Cavium headwinds. First its HBA sales will be affected by hyperconverged infrastructure, where servers and storage combine to replace SANs. SANs are moving to NVMe over Fabrics access and that means developing Fibre Channel HBAs to support that.
Its current FastLinQ Series 10/25/40/50/100GbitE adapters already support Universal RDMA (RoCE, RoCEv2 and iWARP).
Secondly Cavium is facing a potential need to move its Arm CPUs to sub-14nm processes. Samsung has a 7nm process coming later this year with a 5nm one following. That's another area of investment.
Reflecting on the size of Marvel + Cavium might suggest that semiconductor industry consolidation efforts could continue. Broadcom was rebuffed in its attempt to buy Qualcomm, via a CFIUS rejection, Qualcomm is buying NXP, and Intel may be interested in buying Broadcom.
Despite its move to get bigger, Marvel may itself be viewed as a tasty morsel for one of the true silicon giants. ®