Open plan offices don't deliver their promised benefits of more face-to-face collaboration and instead make us misanthropic recluses and more likely to use electronic communications tools.
So says a new article in the Philosophical Transactions of the Royal Society B, by Harvard academics Ethan S. Bernstein, Stephen Turban. The pair studied two Fortune 500 companies that adopted open office designs and wrote up the results as "The impact of the 'open' workspace on human collaboration".
One company "decided to use the latest open office workstation products to completely transform the wall-bounded workspaces in its headquarters so that one entire floor was open, transparent and boundaryless." The other "involved a transformation from assigned seats in cubicles to similarly assigned seats in an open office design, with large rooms of desks and monitors and no dividers between people's desks."
To measure interaction in the workplace, the authors deployed a "Sociometric badge" that was worn around the neck and "captured whom they were facing … whether they were talking or listening (but not what was said) … body movement and posture, and a Bluetooth sensor captured spatial location." The badges were able to detect human interactions thanks to the use of infrared devices that noted each other's presence. Collecting that data let researchers compile a record of face-to-face interactions.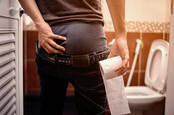 Want to know what an organisation is really like? Visit the restroom
READ MORE
They also collected email and instant messenger records for the same time period, allowing them to build up a picture of how people interact. And then they compared data from the new open-plan offices to the old cubicle warrens.
Analysis of the data revealed that "volume of face-to-face interaction decreased significantly (approx. 70%) in both cases, with an associated increase in electronic interaction."
"In short, rather than prompting increasingly vibrant face-to-face collaboration, open architecture appeared to trigger a natural human response to socially withdraw from officemates and interact instead over email and IM."
In the first workplace studied, "IM message activity increased by 67% (99 more messages) and words sent by IM increased by 75% (850 more words). Thus — to restate more precisely — in boundaryless space, electronic interaction replaced F2F interaction."
The second workplace produced similar results.
The authors reach three conclusions, the first of which is that open offices "can dampen F2F interaction, as employees find other strategies to preserve their privacy; for example, by choosing a different channel through which to communicate."
The second is that we just don't know all that much about how humans interact, but that several studies suggest we may be overstimulated by lots of company and that architecture won't change behaviour in a hurry.
Lastly, they suggest that open offices may drive workers to use more digital communication. That's a poor outcome because plenty of other studies suggest that email is a less efficient medium of interaction than face-to-face communication.
"In summary, because the antecedents of human interaction at work go beyond proximity and visibility, the effects of open office architecture on collaboration are not as simple as previously thought," the authors conclude. "While it is possible to bring chemical substances together under specific conditions of temperature and pressure to form the desired compound, more factors seem to be at work in achieving a similar effect with humans."
"Until we understand those factors, we may be surprised to find a reduction in F2F collaboration at work even as we architect transparent, open spaces intended to increase it." ®