Freshly baked storage: Take a pinch of Intel Skylake silicon, some flash powder, sprinkle into IBM's FlashSystem
9100 and 9150 arrays slide out of the oven, added to line up
---
IBM today added new models to its FlashSystem line to more than double the family's maximum capacity, push performance higher with Intel Skylake processors, and strengthen its NVMe-over-fabrics capabilities.
There are two new systems on offer: the 9100 and the 9150. Both come in 2U enclosures with active:active controllers, and can scale out to eight nodes using four pairs. The 9100 uses eight-core Intel Sklyake CPUs while the 9150 gets 14-core processors. They both have up to 768GB of data cache per node.
The current 900 series, powered by Intel Broadwell CPUs, uses 32-layer 3D TLC NAND. We understand the 9100 line uses 64-layer 3D TLC NAND.
The arrays use two kinds of flash drives: IBM's own-design FlashCore Modules with 4.8TB, 9.6TB, and 19.2TB capacity, and commodity SSDs with 1.92TB, 3.84TB, 7.68TB and 15.36TB capacity levels.
The FlashCore Modules have NVMe interfaces that can be deployed with any combination of industry-standard NVMe flash drives. Both models can have a total of 480TB of raw capacity, and IBM says they feature:
NVMe optimization and NVMe-over-fabrics readiness
Deduplication
Hardware-assisted compression in the Flash modules, as with the current 900 product
Data Reduction pools add thin provisioning
2PB effective capacity in 2U base box, scaling to 32PB in a 42U rack
RAID levels 1, 5 and 65
16G fiber channel, 10Gbit/s iSCSI, 25GbitE iWARP and RoCE interfaces
Cloud tiering
The quoted effective capacity is the typical maximum amount of user data that can be stored after data reduction.
The 9150 runs up to 2.5 million IOPS, and 10 million IOPS in a 4-node cluster. The 900 series was rated at up to 1.2 million IOPS with up to 2.4 million IOPS achievable in the maximum configuration.
These FlashSystems come with a seven-year warranty. The FlashSystem 9100 and 9150 do not replace the existing 900, A9000 and A9000R systems, as these continue to be sold albeit with software different to that in the 9100.
Management is assisted via Storage Insights: IBM's AI-based predictive analytics, storage resource management, and support platform delivered over the cloud.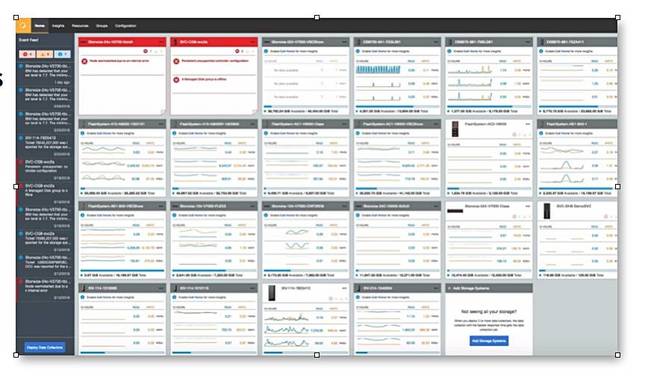 Storage Insights management software
The software environment includes Spectrum Virtualise, which virtualizes other IBM and third-party arrays to be managed as storage resources by the 9100s. It can also uses the IBM cloud.
Reference Architectures or blueprints
There are three pre-validated system blueprints:
Data Reuse, Protection and Efficiency - uses Spectrum Protect Plus and Spectrum Copy Data Management (CDM) to provide data protection for virtual applications with copy data management and reuse functionality both on premises and in the cloud,
Business Continuity and Data Reuse - uses Spectrum Virtualize for Public Cloud to extend data protection and disaster recovery capabilities to the IBM Cloud, and has the copy management and data reuse features of Spectrum CDM,
Private Cloud Flexibility and Data Protection - to deploy private clouds, with the technology needed to for container environments, and has Spectrum CDM to manage copy sprawl and provide data protection for containerised applications.
Battle cards
IT analyst house Evaluator Group prepared four battle cards comparing all-flash arrays from Dell EMC, HPE, NetApp, and Pure Storage against the FlashSystem 9100. These were accidentally slipped onto the open internet before IBM's big launch today.
These battle cards identify FlashSysytem 9100 strengths against these competing systems, but also the IBM product's weaknesses – areas in which IBM and its business partner sales people will have to defend the 9100.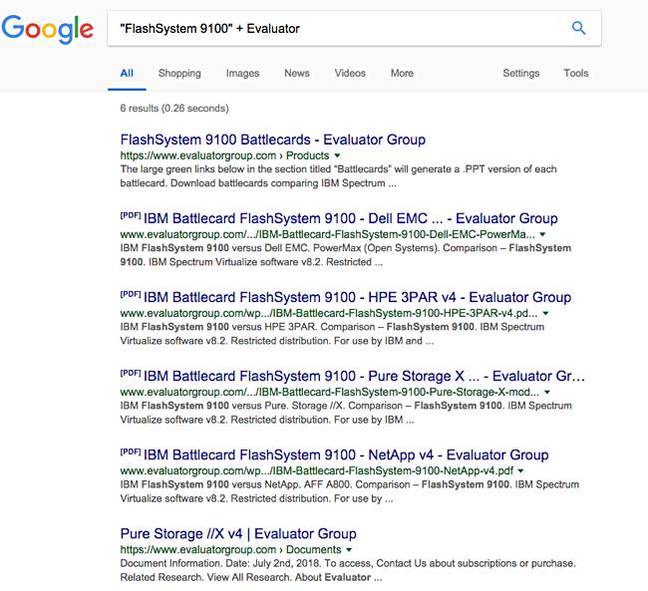 Spotted ... Evaluator Group FlashSystem 9100 battle cards publicly available via Google
After we clocked them in a Google search, the slides were pulled offline by Evaluator Group – however, they might return once the hardware's launch is out of the way on Tuesday.
The bottom line is: IBM is using Intel Skylake-powered controllers, and high-capacity flash drives, with an extended software environment, to provide two new FlashSystems ready for an NVMe-over-fabrics world. ®
Similar topics
Narrower topics