This article is more than 1 year old
Oracle? A strategic priority for CIOs? Nope, says Goldman Sachs
Spending survey highlights shift to new-world tech vendors
Oracle is among the legacy tech losers in a Goldman Sachs spending report that quizzed chief information officers on the procurement areas they consider to be top priorities over the next six months.
The research arm of the bank's half-yearly IT Spending Survey looked at the top 10 things that CIOs said they were intending to spend on. Little had changed since the end of 2017, with SaaS apps, BI/analytics and public cloud coming in below the top dog, security, as reported by The Street.
Some 10.4 per cent of those surveyed plan to splash more of their company's cash on security, up from 10.1 per cent in the prior research note in December, which is hardly surprising following a smorgasbord of well-publicised breaches.
Endpoint, analytics and identity management remained top of the pack for specific security products. Just 9 per cent said they'd spend less on security appliances, potentially denting the wallets of companies including Check Point, McAfee and Symantec.
Almost 8 per cent of CIOs said they'll spend more on software-as-a-service.
Redmond beats off Big Red
In terms of the public cloud, AWS, Microsoft and Google were the three big winners but that will be of no shock to anyone as the triumvirate already hold the lion's share of market sales.
"While we remain bullish on the overall public cloud opportunity, we see an increasing numbers of companies confronting the realities and challenges of migrating workloads and re-platforming apps," said Goldman Sachs.
"As enterprises come to the conclusion that their IT paradigm will likely be hybrid for longer than anticipated, this dynamic continues to benefit on-premise spending."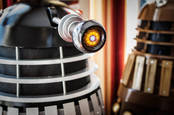 Oracle, for one, says we'll welcome our new robot overlords: '90%' of you will obey an AI bot
READ MORE
Nearly half of the survey respondents picked Microsoft as their "most-strategic" analytics/BI vendor, with 37 and 33 per cent saying the same of AWS and Tableau Software respectively.
This change in attitude could be to the "detriment" of some of the old world players including Oracle, SAP and Teradata, the report stated.
Big Red has made a lot of shifting its wares to the cloud, but came under fire last month after it was accused of obfuscating cloud weakness by changing the way it reported segments of the business for its Q4 by lumping together its cloud services and licensing support in one category and cloud and on-premises licences in another.
In a conference call at the time Oracle co-CEO Safra Catz denied the company was making its cloud sales more, well, cloudy. "No hiding... we don't have any bad news," she said.
As for hardware, PC spending forecasts "strengthened meaningfully". And in networking, Cisco and F5 Networks were expected to take market share at the expense of HPE, Dell EMC, Arris Ltd, Arista and Juniper Networks.
Storage was a top 10 spending category contender, rising from eighth to sixth, displacing big data platforms. Private cloud spending intention nudged up from fifth to fourth place.
Spending intent was at its second-highest level since 2002, when Goldman first began the survey. ®