This article is more than 1 year old
Dudes. Blockchain. In a phone. It's gonna smash the 'commoditization of humanity' or something
Crypto lush HTC claims gizmo will be an 'agent of decentralization'
Strategy Boutique So it wasn't a joke. HTC today vowed to launch its "Blockchain Phone", which it calls an "agent of decentralization".
HTC confirmed overnight that the Exodus smartphone will ship in its third quarter – meaning some time before the end of September – without releasing specifications. Or even what advantages it promises for the owner.
It's the brainchild of VC Phil Chen, who as well as managing Li Ka-shing's money at Horizons Ventures*, has returned to mastermind the initiative at HTC, rejoicing in the job title "Decentralized Chief Officer". HTC is giddy about the possibilities of putting a crypto wallet in a mobe, and makes an impressive bid to walk off with the Strategy Boutique trophy 2018. The aspirational statements leap out at us like salmon trying to get home.
"This is just the start of HTC helping to combat the commoditization of humanity," the press release tells us. Like a teenage libertarian having his first few bottles of Thunderbird, HTC discovers that all thoughts collide.
"Context and meaning are being destroyed by copyright and privacy laws that were written for a bygone era," an assertion that sadly isn't supported, or returned to. Yet at the same time HTC purports to want to help creators, by staging "a platform and distribution channel for creatives who make unique digital goods".
"We understand the potential of digital scarcity and uniqueness. With Exodus, HTC aims to be a general blockchain asset marketplace," said Chen. "We believe there is a paradigm shift and the pendulum is swinging back to ownership and the value of content."
The phone includes a cold-storage wallet – a place to store Bitcoins – and distribute the non-fungible token game CryptoKitties. Animoca, an Intel Capital-backed game publisher, and blockchain property rights upstart Bitmark have been enlisted "to accelerate the building and distribution of unique digital goods from creatives on the Blockchain".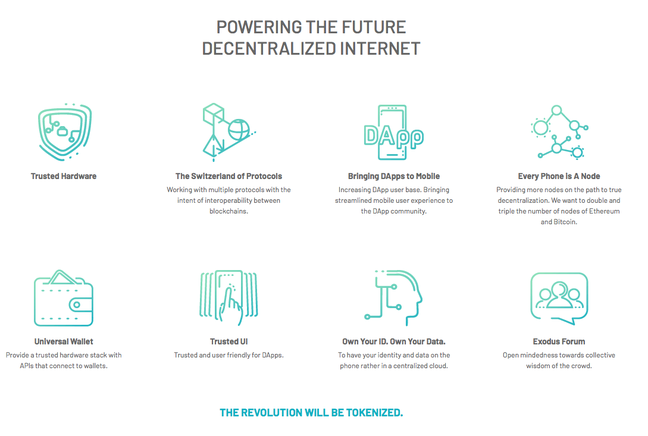 Click to enlarge
Chen said Exodus is "helping underlying protocols expand their base of dedicated nodes, thus expanding the total blockchain ecosystem".
It's likely to cost around £1,000, Chen told press.
He explains more in a blog post here and on the phone's website. ®
*Bootnote
"Phil Chen treats entrepreneurial and venture investing endeavors as liberal art pursuits," HTC tells us, which presumably means they don't have to work every time, much like the buttons on HTC's flagship smartphone, the U12+.
Chen's LinkedIn profile reveals he has a Master of Divinity (MDiv) degree in postmodern philosophy from Fuller Theological Seminary.
All in all, Chen and HTC have set a very high bar for Strategy Boutique entries – it is hard to imagine this combination being surpassed.