This article is more than 1 year old
Do you really want your kids' future in the hands of Capita? Well, too bad
Outsourcer awarded £109m contract to do primary school test admin for next six years
Won't somebody think of the children? Capita – perhaps the UK's least favourite outsourcing badass – is to oversee the admin, processing and support for all primary school national curriculum assessment (NCA) tests in England.
The six-year contract worth £109m was awarded by the Department for Education's Standards and Testing Agency, covering the 2020 to 2024 test cycles, starting September 2019.
This means Capita will manage the NCA tests end-to end, including printing, distribution and collation of 9 million papers a year for Key Stage 1 and 2 tests and the phonics screening check.
Some 16,000 schools and 4,000 test markers will be subjected to Capita's "enhanced digital solution" that, we are assured, comes with a new secure access portal to keep and review the status of the test process, obtain results and download records all in one place. What can go wrong?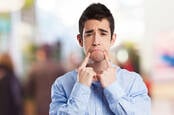 Just can't catch a break, can ya, Capita? Shares tumble 40% amid yet another profit warning
READ MORE
"Capita is an established and experienced partner to the education sector and this contract further reinforces our strategy," said CEO Jonathan Lewis, who was parachuted into the business in October.
The hire followed the relatively brief reign of CEO Andy Parker - he took over in early '14 and was gone by summer '17 - who inherited a messy business that comprised multiple acquisitions in various business process outsourcing sectors.
Under Parker, Capita issued its first ever profit warning. It also opened up on problem contracts. Capita devised a company-wide get-fit plan that involved automation, selling off units deemed to be non-core, and laying off staff. The share price sank and Parker exited stage left.
Capita reported deeper losses for fiscal '17 of £515m. Lewis said the corporate structure was too complex, and that the company was a collection of contracts taken on via acquisition. He has initiated a refresh of its own internal IT systems.
But while Capita is making tentative steps on a road to recovery, it continues to get out of certain business areas – Asset Services was sold, for example. Today, Capita said it was also getting out of the traffic warden business.
The parking management organisation,ParkingEye, which provides automatic number plate recognition systems for Aldi and Morrisons, is to be sold for £235m to bank Macquarie and funds. Capita bought ParkingEye for £57.5m in 2013.
The sale "marks a further step in executing the strategy... aimed at simplifying and strengthening the business to deliver future success," Lewis said in a statement to the London Stock Exchange.
Other areas flogged off include Supplier Assessment Services for £160m, Capita Specialist Insurance Services for £16m, Projen for £2.75m and Medicals Direct Group for £2.7m. ®