Datera adds container support and objects to its virtual block array
Minnow takes on pretty much every other primary storage supplier
---
Storage startup Datera has spread its primary storage wings and added containerisation and object support.
Datera provides block-access scale-out, server-based storage with its Elastic Data Fabric software running in x86 servers, supplied by the firm itself or bought off the shelf from suppliers like Cisco, Dell, HPE and Supermicro.
This is a virtual SAN approach to block storage but without the expected hyperconverged infrastructure around it. It supports bare-metal, virtualized and containerized applications and provides them with data services – it is a Data Services Platform (DSP).
A corollary of this is that non-block access services can be provided, such as object storage.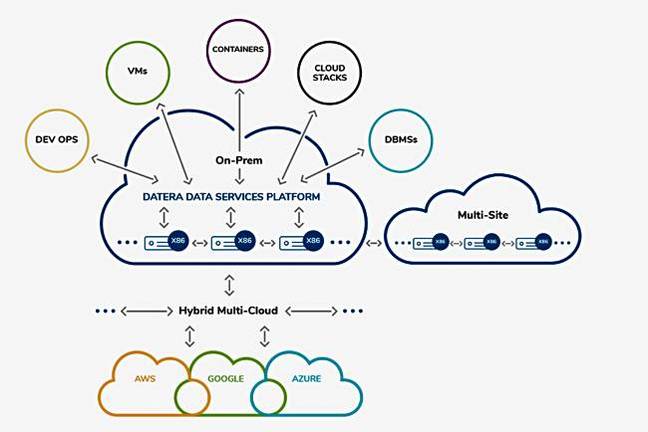 Datera DSP concept
The idea is to to avoid being limited by a particular storage array's design and architectural limitations by building a virtual array using Lego-like server bricks. The resulting virtual SAN can act as a single, enterprise-wide repository for block data. Datera has claimed it can deliver block data access services to any storage-consuming application, even mission-critical ones.
The DSP software combines multiple servers' flash and disk storage and places data with auto-tiering and auto-migration of live data. It is self-configuring and users self-provision the data services they need. The software supports quality of service, service-level objectives and multi-tenancy, and has a public cloud-like approach.
As it's software, it can run in the cloud.
Datera v3.2 features:
More containerization support with automated data co-orchestration,
Active:active stretch clusters with automated worldwide operations and auto-rebalancing as data grows,
Support for persistent memory (Optane) and NVMe flash drives,
Scaling up to 96TB/node and 6PB globally,
Compress, deduplication, virtual provisioning and S3 object data services, and
Single pane-of-glass management with predictive operations, anomaly detection and visual dashboards.
The new software integrates with Docker, Rancher and Kubernetes to deliver storage to containers. Datera said it was collaborating with Intel and Samsung for support of NVMe and persistent memory technologies capable of 200K IOPS at 200μs latency per node. Combining nodes gets the IOPS into the millions.
Reg comment
Datera has claimed its storage software abstracts the hardware layer and provides a single primary data virtual storage repository. It has said this is easier to manage than multiple arrays, scales beyond them, and can match them in speed.
Unlike Primary Data, which tried and failed a similar all-in-one virtual repository approach by virtualizing existing storage, Datera is looking to replace existing arrays. It has positioned itself as a threat to all existing shared external storage suppliers - block, object and perhaps even file – because filers can be described as file data service platforms.
Unifying file and block storage is a solved problem and it wouldn't surprise El Reg at all if Datera moved to add file services in the future.
Datera's competition also includes storage software suppliers such as Nexenta, in comparison to which Datera would claim mission-critical and worldwide enterprise superiority.
It is also competing with every hyperconverged infrastructure supplier as well as all the object storage suppliers. Focusing its marketing and sales channels is going to be important to avoid spreading them too thin.
The company was founded in 2013 and received $40m funding in 2016. Our thinking is that if it is to grow at the rate it's been talking about, it is going to need a substantial new round of funding to grow its infrastructure and channels and continue engineering development. ®