UK-based box shifting titan Softcat, is cock-a-hoop after bagging a lucrative contract worth up to £160m to fling software at the Scottish public sector.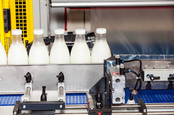 Tsk-tsk, fat cat Softcat: Milk-slurping reseller taken to court
READ MORE
The single-source contract, which lasts for two years (with an option to extend for another two years), will see the reseller supplying lucky Scots with all manner of software, enterprise or otherwise, along with consultancy services. Softcat said it also expects to collaborate with existing public sector third-party suppliers and partners.
Hopefully those third-party suppliers do not include the milkman. Softcat has a bit of form in that area.
The contract is only concerned with software. The public sector will have to source its hardware from elsewhere, although Softcat may help with infrastructure-related kit. For a fee, of course.
The LSE-listed firm is in a confident mood, and has begun to add new heads to its Glasgow office to support the extra work. It had already scored a separate four-year deal to supply NHS Scotland with Microsoft Office, worth £8m per year.
Softcat's strategic relationship manager, Andy Bruen, told The Register that the road to the contract had been a lengthy and difficult one: "The framework competition was quite robust and went on for quite a while. My team engaged with it in October and [it] was finalised during March and April."
Bruen added: "This is the first evolution of this contract that has been taken up by the Scottish government; they've toyed with running their own software for a little while, but this time around they've decided to piggyback on NHS national services."
Lucky old NHS. Everyone loves a piggyback ride.
Softcat's new CEO, Graeme Watt, doubtless pleased to have notched up a sales success as his tenure gets under way, issued an attaboys to his team: "We are very pleased and excited by this award and now look forward to delivering on our commitments."
Delivering on those commitments will be a factor when it is decision time on whether to extend the initial two-year contract to the full four years.
Softcat is no stranger to public sector deals, having been heavily involved with the likes of NHS Digital. The company has also continued to report enviable results, with half year revenues to 31 January 2018 of £472.8m (up 24.9 per cent on the previous year) and a gross profit of £74.8m, a 22.2 per cent increase on the £61.3m of last year.
A potential £160m over the next four years will keep that rosy glow on the cheeks of the accountants. ®
Sponsored: Webcast: Ransomware has gone nuclear