This article is more than 1 year old
Salesforce 'Einstein' now smart enough for customer service
Your software pal who makes call centres less stabby
Salesforce has unleashed an upgrade to its Einstein AI that equips it to handle customer service chores.
Einstein has hitherto been offered as an assistant capable of helping Salesforce users to make predictions based on the data they've collected on the SaaS platform, with one variant also capable of making suggestions to customer service workers.
Now the company has doubled down on that use case with "Einstein Bots for Service", code that it claims can "automate routine service requests and enable frictionless agent handoffs."
Customer service operations cost a stack of money to run because they need lots people, and those people quickly tire of dealing with grumpy customers and leave in droves. Which just makes customer service even more expensive to run and makes customers even less happy because they often deal with new workers or wait on hold because customer service operations are short-staffed (or just cheap).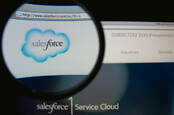 USA needs law 'a lot like GDPR' – says Salesforce supremo Marc Benioff
READ MORE
One of the metrics customer experience wonks use to measure their success is "first time resolution rate", which does what it says on the can – figure out if you got satisfaction ASAP. And because every customer interaction is an upsell opportunity, customer service folk want their people to know what to suggest to delight you.
Chatbots are advanced as a way to get customers interacting quickly and also address cost control issues by funnelling help-seekers into an automated channel first. Of course bots can make customers even more grumpy than a bad agent, so they need to be good. Salesforce reckons Einstein's machine learning and natural language processing are up to the job.
Salesforce also reckons it has swift resolution sorted, with a new thing called "Lightning Flow for Service" that can point users to either self-help resources or, when interacting with a human operator, make sure customer service staffers are guided to the most helpful next step.
Einstein's also grown a limb called "next best actions" that "are delivered at the moment of maximum impact—surfacing insights directly within the Service Cloud console" so that customer service people can get better at upsell and faster and solving problems. If that works, customer service operations make more money and are more productive, a nice win-win.
Next best actions is currently a pilot, but Lightning Flow and Einstein Bots for Service are live and included with users of various Service Cloud editions. ®