This article is more than 1 year old
Indictment bombshell: 'Kremlin intel agents' hacked, leaked Hillary's emails same day Trump asked Russia for help
Charges filed against dozen suspected Russian spies
American prosecutors have accused 12 suspected Russian spies of hacking Democrat and Hillary Clinton campaign officials to publicly leak their sensitive emails and potentially influence the 2016 US Presidential Election.
Deputy Attorney General Rod Rosenstein today announced criminal conspiracy charges against a dozen people he says worked on behalf of Russia's GRU military intelligence agency to break into machines run by the DNC and the Clinton campaign, and steal and disclose those sensitive documents, in hope of tipping the outcome of the election in favor of Donald Trump.
An 11-count indictment charges Viktor Borisovich Netyksho, Boris Alekseyevich Antonov, Dmitriy Sergeyevich Badin, Ivan Sergeyevich Yermakov, Aleksey Viktorovich Lukashev, Sergey Aleksandrovich Morgachev, Nikolay Yuryevich Kozachek, Pavel Vyacheslavovich Yershov, Artem Andreyevich Malyshev, Aleksandr Vladimirovich Osadchuk, Aleksey Aleksandrovich Potemkin, and Anatoliy Sergeyevich Kovalev with conspiracy, money laundering, and identity theft, for their alleged work on behalf of Unit 74455, a branch of Russian intelligence.
It's unlikely, of course, that any of them will see the inside of a US court, so the charges are largely symbolic.
According to an indictment [PDF], the group was behind the DCLeaks website and Guccifer 2.0 persona that funneled the materials to the public through an unnamed online outlet (cough, cough, WikiLeaks) to nudge national sentiment in Trump's favor and Russia's interests.
"Free and fair elections are hard-fought and contentious, and there will always be adversaries who work to exacerbate domestic differences and try to confuse, divide, and conquer us," Rosenstein said. "So long as we are united in our commitment to the shared values enshrined in the Constitution, they will not succeed."
It is claimed the hackers spear-phished DNC officials to lift their login credentials, infiltrated their computers and email inboxes, and siphoned off vital information on the pending election. The alleged snoops set up an encrypted backdoor tunnel into the DNC's servers, and used it to exfiltrate gigabytes of information without being detected.
These files were then shared with websites and the wider internet to embarrass the Dems, derailing to some degree their bid to control Congress and the White House, it is claimed. The indictment also alleged that at least one US congressional candidate also sought out dirt from the hackers.
"On or about August 15, 2016, the Conspirators, posing as Guccifer 2.0, received a request for stolen documents from a candidate for the US Congress," the indictment stated. "The Conspirators responded using the Guccifer 2.0 persona and sent the candidate stolen documents related to the candidate's opponent."
Rosenstein emphasized no Americans were charged or implicated in the indictments. However, folks poring over the legal paperwork clocked almost immediately that on the day Trump publicly called on Russian hackers to extract emails from Clinton's systems, the alleged Kremlin-controlled miscreants struck – "for the first time," according to the indictment.
July 27, 2016, Trump: "Russia, if you're listening, I hope you're able to find the 30,000 emails that are missing."
Indictment: That evening, Russian operatives targeted Clinton campaign emails "for the first time." pic.twitter.com/fanyaAxwfJ

— Christopher Ingraham (@_cingraham) July 13, 2018
On July 27, 2016, then-candidate Trump said "Russia, if you're listening, I hope you're able to find the 30,000 emails that are missing." THAT SAME DAY Russian intel officers targeted, for the first time, Hillary Clinton's personal office.

— Sen. Patrick Leahy (@SenatorLeahy) July 13, 2018
Here's the full statement Trump made when calling for Russia to find the 30,000 missing emails on the day the indicted GRU campaign started targeting her campaign for the first time. https://t.co/FLbHTGVoeN

— Alexander J. Martin (@AJMartinSky) July 13, 2018
The document also noted that at least one person on Trump's campaign staff had contact with the hackers in the lead-up to the election.
"On or about August 15, 2016, the Conspirators, posing as Guccifer 2.0, wrote to a person who was in regular contact with senior members of the presidential campaign of Donald J. Trump, 'thank u for writing back . . . do u find anyt[h]ing interesting in the docs i posted?' On or about August 17, 2016, the Conspirators added, "please tell me if i can help u anyhow . . . it would be a great pleasure to me," the indictment stated.
"On or about September 9, 2016, the Conspirators, again posing as Guccifer 2.0, referred to a stolen DCCC document posted online and asked the person, 'what do u think of the info on the turnout model for the democrats entire presidential campaign.' The person responded, '[p]retty standard'."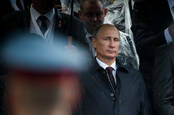 US, UK cyber cops warn Russians are rooting around in your routers
READ MORE
The President, who is visiting the UK right now and about to meet Russia's supreme leader Vladimir Putin, maintains and insists that there was no collusion between Moscow and himself, his campaign, his family, and his staff, to scupper Clinton's White House dream.
It could be argued that, like the Russian-booked Facebook ads, the leaked emails may not have changed the minds of American citizens, who by mid-2016, were well aware of the pros and cons of Hillary and Donald. On the other hand, according to the US Department of Justice, an attempt was at least made by the Kremlin to meddle with the presidential elections – and up with this we will not put.
Meanwhile, US elections are still potentially at the mercy of hackers. Political forecasters FiveThirtyEight warned in May they have been working with a researcher who found that "several states" in America were still vulnerable to attacks on their election websites.
They noted that webpages operated by Alabama and Nevada were both found to contain bugs that would allow scumbags to alter public information, potentially misleading voters and tipping the outcome of elections. ®