This article is more than 1 year old
Y'know... Publishing tech specs may be fair use, says appeals court
Expect this one to be argued all the way to the Supremes
In a victory for those supporting open access to technical specifications, the US Court of Appeals for the District of Columbia Circuit on Tuesday vacated injunctions [PDF] that prohibited Public.Resource.Org (PRO) from publishing copyrighted technical standards online.
The appeals court reversed a partial grant of summary judgement against the non-profit organization and returned the case to the US District Court for the District of Columbia to decide whether PRO's distribution of technical standards qualifies for the fair use defense against copyright claims.
PRO, run by public domain advocate Carl Malamud, gathers and publishes various government documents to make them more easily accessible. These include rules created and copyrighted by private standards organizations that get incorporated into federal law.
An example might be the technical specifications for the power source a tank barge would need to run the cargo tank's legally required liquid overfill protection system.
The required power source, as described in the court ruling, turns out to be "a 120-volt, 20-ampere explosion-proof plug that meets ... NFPA 70, Articles 406.9 and 501-145."
This rule was developed by the National Fire Protection Association (NFPA), a private organization, and incorporated into the National Electrical Code.
PRO purchased and uploaded hundreds of these technical standards from 2012 to 2014, in order to make the rules available to the public at no charge and to make them more accessible, through text-to-speech readers, for example.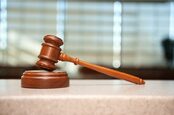 US State of Georgia sues 'terrorist' for publishing its own laws ... on the internet
READ MORE
It was sued for intellectual property violations in mid-2013 by American Society for Testing and Materials (ASTM). When PRO refused to remove the standards docs from its website, ASTM, NFPA and ASHRAE (American Society of Heating, Refrigerating and Air-Conditioning Engineers) pressed their copyright and trademark claims (1:13-cv-01215-TSC).
Around the same time, the American Educational Research Association filed a similar lawsuit (1:14-cv-00857) after PRO published its standards for educational and psychological testing.
The district court last year sided with the standards groups and issued a partial summary judgement.
The appeals court has now undone that ruling, allowing for the possibility that PRO's publication of the specs is defensible as fair use while ducking the larger question of whether federal law can be copyrighted.
"Although PRO raises a serious constitutional concern with permitting private ownership of standards essential to understanding legal obligations, we think it best at this juncture to address only the statutory fair use issue – which may provide a full defense to some, if not all, of the SDO's infringement claims in this case – and leave for another day the question of whether the Constitution permits copyright to persist in works incorporated by reference into law," the ruling states.
"We're very pleased with today's ruling, which represents a victory for the public as well as for Public Resource," said EFF Legal Director Corynne McSherry in a statement emailed to The Register. "It would thwart the purposes of copyright, not to mention due process, to allow a copyright claim to prohibit sharing the law for purely noncommercial purposes."
A similar fight between the State of Georgia and PRO has yet to be resolved. Last year, the State of Georgia won its 2015 case against PRO for publishing the state's laws online. That decision remains under appeal. ®