This article is more than 1 year old
You wanna be an alpha... tester of The Register's redesign? Step this way
We're switching up how the site looks – and we need your feedback
Here at El Reg towers, our backroom boffins have been toiling away improving our proudly Perl-based homegrown online publishing system.
Among their latest work is rejigging The Register's website so that it looks spiffing on desktop and mobile, automatically adjusting the layout depending on your device's screen size.
Whether you're reading us at your work or home PC, or on your phone on the train, our homepage should look and feel the same. That makes our internal code easier to maintain, among other benefits.
Another big goal has been overhauling the design of the site's front page so that it's clean and modern – and, crucially, more dynamic, allowing our journalists to build a customized page one that suits the day's news. Right now, our homepage is rigid. No matter what's happening – overly amorous CEOs being fired, big vulnerabilities found, global systems crashing, or just business as usual – the site looks the same.
Now, if there's a big breaking story, our editors can highlight the news at the top, a la...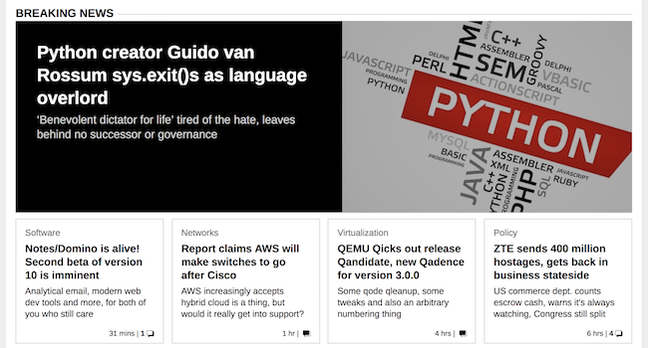 There are other elements we will gradually introduce. If we're covering a conference, stories from the event can be grouped together into a handy box on the homepage. Articles with a particularly amusing photo or two can be highlighted lower down on the page.
And our handpicked top stories can sit at the top of the site when there isn't a big breaking story, as well as a box listing our most read pieces.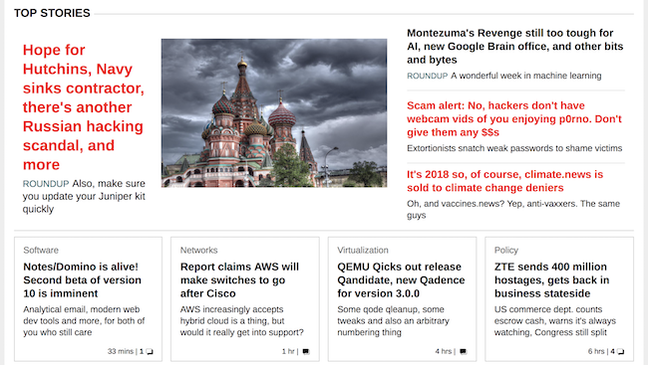 This approach is in alpha development. We've been working on the blueprints, and now we're ready to show you, dear readers, our work so far, and where the site's layout is heading. Meanwhile, our editors are experimenting with the positioning of elements to find the right balances: the right mix of text, images, and other formats. So don't be surprised if layouts change dramatically over the course of a day.
It's not going to look perfect right away. We hope, though, we can eventually steer the site to a place that works for as many people as possible. After all, we trying to keep several million people happy, and the last time we rejigged the appearance of the site, opinion was highly divided. This time we're gonna take it slow. We want to iron out any problems before rolling this out to everyone.
Click here to enable the magic hidden cookie to opt-in for the 2018 redesign
After you've set the cookie, click on the masthead, or go back to theregister.com, to view the new front page design.
To return to the current page one design, click on the "Back to Classic Homepage" button on the new front page, or delete the magic cookie. The cookie expires after a week, at which point you'll return to the current design.
If you have any feedback, dive into the comments section, and speak your brains. Please, pretty please, keep it constructive. Telling us you hate it isn't very informative, so instead tell us what would make it right in your eyes.
And if you like where we're headed, and we really hope you do, please let us know so we can pass on the love to our hardworking tech and graphics vultures. Cheers for taking part, and for reading. ®